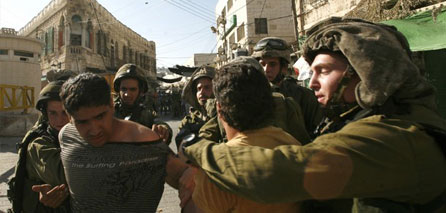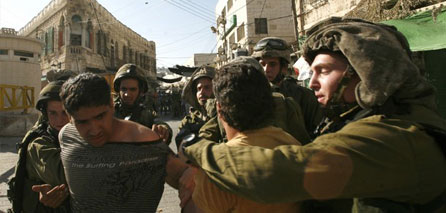 Israeli occupation forces detained today a Palestinian after raiding his house in Dorah, in the south of Al Khalil city, in the West Bank.
Israeli occupation forces raided the house of Taher Al-Switi, 21, and then detained him, eyewitnesses said.
Local sources reported that Israeli occupation forces (IOF) closed the street of Bair Al-Saba in the center of the city and prevented the Palestinian citizens from passing the street to provide the Israeli settlers with more security.
In Bethlehem, IOF notified four Palestinian youths to refer to the Israeli inelegance for questioning.
In the same context, Israeli occupation forces raided on Tuesday number of villages in the city of Nablus in the north of the occupied West Bank, no detentions were reported.
Witnesses said that the Israeli occupation forces raided Orta, Bait Forek and Dair Al-Hatab villages in the south of Nablus yesterday night, adding that they raided number of houses but no detentions were reported