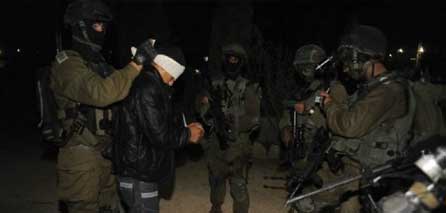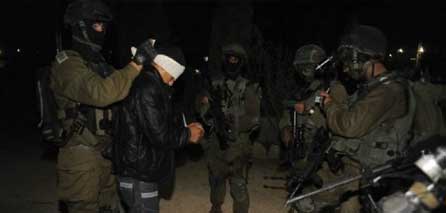 IOF kidnap 16 Palestinians from West Bank and Jerusalem
Israeli occupation forces kidnapped dozens of Palestinians during a campaign of raids in the occupied Jerusalem and number of the occupied West Bank cities.
According to our correspondent, the forces kidnapped 16 civilians during the raids, which were concentrated in the cities of Al Khalil, Qalqilia, Ramallah, and the occupied Jerusalem.
He added that the forces kidnapped the journalist Musab Kufaisheh, Raed Sharabati, Said Abu Sneineh, Mohamed Al-Birawi, Hamada Al Najjar, Musa Tarayrah, Riad Mohammad Al Hroub, and Mahmoud Seder, all from Al Khalil.
The forces kidnapped the boy Saleh Riziq Mosa, from Bethlehem, Maher Shraiteh, from Ramallah, and Ahmed Majid Dawood from Qalandia refugee camp, who was kidnapped from his workplace at a petrol station.
In Qalqilya, IOF kidnapped Ahmed Badwan, Alaa Redwan , Shadi Hussein , and Saqer Shbeita, and kidnapped Adam Dawabsheh of the occupied city of Nablus.
The occupation forces stormed Qalandia and Dheisheh refugee camps and raided number of houses, where clashes erupted between the occupying forces and citizens