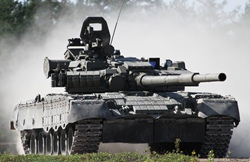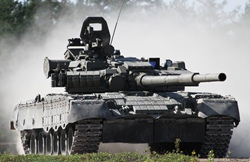 In reaction to Zionist regime baseless threats on Iran, Islamic Republic Army has showcased its new generation of optimized tanks in National Army Day parade.
Reports had it that 'Zulfiqar 3' and 'Samsam' tanks are powerful, taking the military analysts by surprise. In reaction to Zionist regime baseless threats on Iran, Islamic Republic Army has unveiled its new achievements.
Among new Army military facilities, new generation of Zulfiqar has been outstanding. During the past decade, the pace of evolution and advancement of tanks in Iran's Army has been very rapid, such that Iran has been self-sufficient in production of this powerful war machine. Geographical distortions in border lines of Iran have posed different challenges to military experts. The outcome of this difficult confrontation has been designing proper warfare consistent with these distortions and facing enemy threats.
During so many years, the Islamic Republic's Army has been trying developing new facilities and deploying on tanks to make them adapted to different geographical distortions. Due to its destructive and defensive powers, tanks have always been in the focus of combat experts. War strategists in Iran, having this in mind, have invested much on evolving of tanks, with the outcome being Zulfiqar and Samsam series to improve military might of the Islamic Republic Army.
Brig. Gen. Ahmad Reza Pourdastan, Army Ground Forces Commander says that no aggressive power could afford to approach our land borders, unless "it would be destroyed under our tanks," highlighting the scope of Iran's Army military might.
He also pointed to new generation of Zulfiqar and Samsam tanks. "In the case that Iran enters asymmetrical war, the need to evolve ground war machines is felt, and this need brings about the evolution of these machine including Zulfiqar series," he said.
Iran's armed forces enjoy different types of tanks, the majority of which has been improved according to war conditions in different regions. 'Sabalan' tank is the last upgraded tank to be operational in Islamic Republic's Army. Zulfiqar 3 tank, incorporated recently to Army military operative, has been a source of honor for armed forces.
Zulfiqar family of tanks
Iran's army launched attempts to design and produce a tank based on domestic knowledge and capability early 1990s. The outcome has been Zulfiqar tank series, currently serving as a symbol of military progress of Iran's Army. The first model of Zulfiqar tank was designed in 1993 and its assembly line was launched in summer of 1997 in Said Kolahdooz Industrial Complex.
Turrets differ in Zulfiqar tank
Iran's Ministry of Defense official website introduces this as upgraded version of Russian T-71 tank, equipped with modern fire adjustment system, and its 125mm artillery is produced domestically in Iran. Major changes in Zulfiqar models are their different turrets. The body of Zulfiqar 3 tank is different with that of its predecessors. Zulfiqar 1 body is similar to that of US M-60 tank, with similar track drive sprockets; however, Zulfiqar 3 sees drastic changes in its body. Changes included thickening of rear body cover and turret hatch.
The difference in front body, drives, and turrets in Zulfiqar tanks
Zulfiqar 1 tank
Zulfiqar 1 tank was first model of this series produced in 2001. It enjoyed a 780- horsepower diesel motor and its firing control system makes firing when driving. In Zulfiqar 1 tank, warning system and defensive laser technology, developed by Iran's Organization for Defensive Industries, have been deployed.
The tank informs its drivers of anti-tank guided fighters by guided laser beams. The defensive system can be selectively a combination of smoking grenade propellers. This unlocks the laser-aided propellers of the enemy. The warning system enjoys 360 degrees of freedom and 60 degrees of height freedom.
Zulfiqar 2 tank
Little information about the production process of Zulfiqar 2 has been publicized, since the produced tank would have been test model, and Army authorities have not interested to publicize it in the media.
In rare pictures of the tanks, the changed turrets is evident, however, 105mm canon of M-60 tank has been incorporated to its construct.
Zulfiqar 3 tank
This is the most advanced member of Zulfiqar family. An important feature is its firing control system. The firing system, EFCS3, is multi-purpose system, providing the crew with wide range of capabilities, including keeping the gunner in fixed position during maneuvers and replacements, targeting and fighting with fixed and moving targets; information transmission to PC to estimate proper firing angle, integration to tank's night vision technology.
Army experts have added to its speed through adding to its width. Low profile, automatic arming and laser-aided distance estimator, 125mm gunner without groove, capability to launch missiles deflecting enemy radars, and infra red detector system are among other features of the tank.
Mobarez (warrior) tank
Mobarez is an optimized model of Chieftain Tanks. Chieftain was produced in the UK in 1966 and in 1972; it was incorporated into Iran's Army machines. During recent years, many changes have been applied to Chieftain. The final model, and its upgraded model, was called 'Mobarez' by the Iran's Army.
Replacing Lelland L-60 motor with a powerful motor of 850 horsepower, replacing fuel chamber, changes in gearbox and chassis, deploying new type of shock absorber and laser-aided targeting system, were among changes applied on Chieftain tanks by Iran's military experts. Mobarez tank fighting power has been boosted by night vision and laser-aided distance estimator.
'Safir' tank
Safir is optimized model of T-54 tank, made in Soviet Union, with the largest number of tanks in history of militarism. During 1990s, Iran's Army decided on applying reforms on this tank in order to make its operation more optimal. With the cooperation of Logistic Defensive Research Center of the IRGC Ground Forces, fundamental changes produced 'Safir' tank. Firing performance and high speed and precision in targeting when stopped and moving is an 'armorial revolution' for Iran's armed forces.
This tank is capable of operation in depth of 5m of water with facilities, and in depth of 51m without facilities added. Improved motor power, armorial capabilities, quick response, and precision and speed in firing are the advantages of Safir.
'Samsam' tank
Samsam is reformed model of M-60 tanks. Incorporation of canon stabilizer capable of operating horizontally and vertically is an important change of the previous model. Panorama visual system is an important feature of Samsam for the commander. This system rules out the need to turret for covering horizontally and vertically. The magnifying power is 7 times greater than that in M-60 tanks. An important improvement in the tank is arming it with EFCS-3 firing control system to achieve guaranteed targeting by the canon.
With help from such system, targeting would be more rapid, more precise, and possible in day and night; and the probability of success in targeting increases in the first firing. Laser-aided distance estimator, automatic receiving and calculation of ballistic and environmental parameters for targeting, night vision technology, stabilized mirrors horizontally and vertically are among improvements in Samsam new generation of tanks.