Iran
Iran Army unveils flight simulator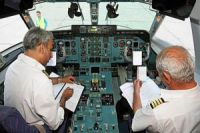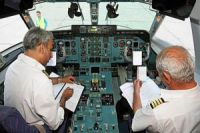 The Islamic Republic of Iran Air Force (IRIAF) has unveiled a number of indigenous flight simulation systems for pilot training.
IRIAF Commander Brigadier General Hassan Shah-Safi inaugurated the new flight training simulator during a Sunday ceremony, which was also attended by high-ranking officials from the country's Air Force.
During the event, a new flight route finder, dubbed Gyrolab, was put to test. The simulation system enables cadets to practice the correct usage of instruments and the conditions in the cockpit as well as floating in the air.
Gyrolab further makes it possible for the pilot to control and direct the plane in an emergency situation by relying on accurate indicators.
An indigenous ejection seat trainer was also unveiled during the Sunday event. The new system has the capacity to simulate an emergency, where the cadets can practice preparations to eject.
The IRIAF commander also unveiled a spatial disorientation simulator which is capable of creating fast plane rotations, enabling cadets to deal with dizziness and maintain their normal physical condition.