Iran
Middle East
Iran Asks Countries Not to Politicize Ukrainian Plane Incident
Iran's Civil Aviation Organization announced in a statement on Wednesday that the crew of Aseman airliner have given a different account after communicating with the tower whose audio file has lately been released, and said that they had mistaken the glow of the burning Ukrainian plane with a missile.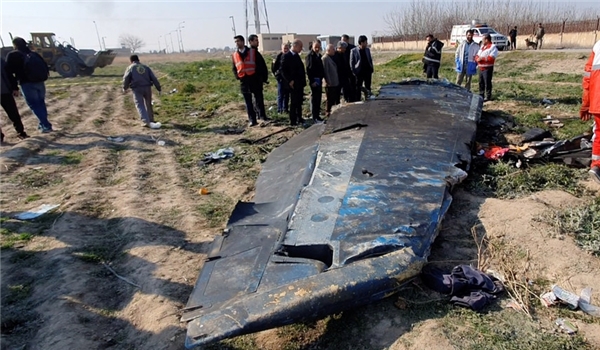 The statement said that the crew of Aseman plane who had reported witnessing the light of an object like a missile concurrently with the Ukrainian plane incident on January 8 have later said that they had mistaken the burning plane with a fired missile after watching the related footages.
"The crew of Aseman plane said that the duration of the moving light was so long that they had asked even another flight crew to join them in the cockpit to discuss the issue with him/her," it added.
"After watching the footages of the burning plane, members of the group concluded that the observed object was the same burning plane which hit the ground and blew up [and not a missile]," the statement said, noting that the Civil Aviation Organization had thought that technical flaw had caused the plane to go on fire as was observed by the Aseman crew, before military officials came to declare the real cause of the incident.
It also underlined continued investigation into the incident within the framework of national and international laws and cooperation with involved countries, calling on all sides to avoid politicizing the incident.
On the recording, which was played on a Ukrainian television station late on Sunday, the pilot of another plane apparently in the air at the time when the Ukraine International Airways flight 752 was shot down due to human error can be heard saying in Persian that "is this an active area? There's lights like a missile".
The Ukrainian airliner was struck by a missile inadvertently on Jan. 8 shortly after it left Tehran en route to Kiev. Iran admitted it had shot down the Ukraine plane in error. All 176 people onboard, including nationals of five foreign states of Canada, Ukraine, Sweden, Afghanistan and Britain, lost their lives.
The General Staff of the Iranian Armed Forces said in a statement that the Ukrainian Boeing 737 plane was shot down as a hostile object due to human error at a time of heightened US threats of war.