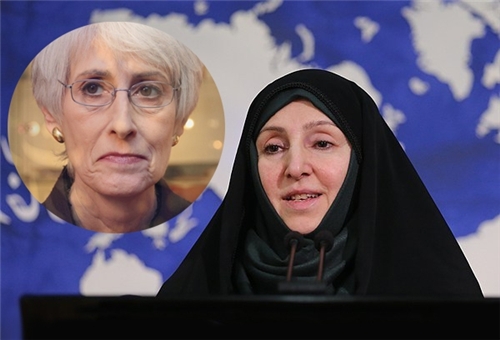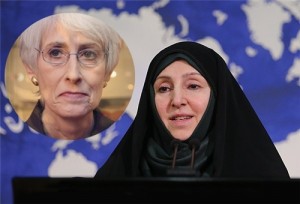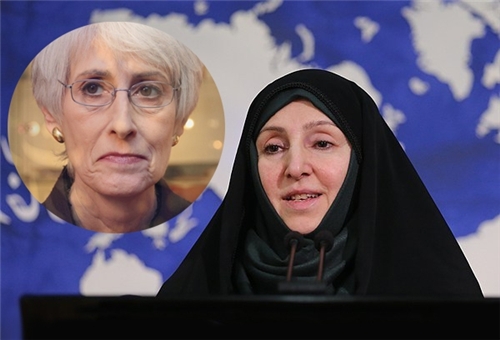 Iran condemned US Undersecretary of State and top negotiator Wendy Sherman for her insulting remarks against the Iranian nation, and said the US officials should speak and act wisely and smartly to protect the atmosphere of talks with Tehran.
"The two sides should maintain the sound atmosphere of the negotiations smartly and vigilantly and avoid irrelevant discussions which don't help to the trend," Foreign Ministry Spokeswoman Marziyeh Afkham said in her weekly press conference in Tehran on Tuesday.
"If Ms. Sherman's political statements and expressions resemble what has been quoted from her, then doubt should be cast over her other remarks (which she has made during the negotiations between Iran and the world powers in Geneva)," the Iranian spokeswoman added.
Wendy Sherman, the State Department's third-ranking official, told the Senate Foreign Relations Committee that officials were looking for ways Iran could "build confidence" and provide time for diplomacy to work. "We know that deception is part of the DNA" in Iran, she claimed.
In relevant remarks yesterday, a senior Iranian legislator also lashed out at Sherman for her comments, and said the US officials are angry at Tehran's resistance against their arrogant demands.
"The remarks by the US undersecretary of state is not worth a reaction and she is a stupid and unwise person and her remarks are far from logic and reason," Siamak Marreh Sedq, who represents the Jewish community at the Iranian Parliament, told FNA on Monday.
Mareh Sedq described the remarks as a sign of the American officials' enmity towards the Iranian nation, and said, "The Iranian nation is the only nation that has not and does not bow to the relations ruling the world's arrogant system at present."
In relevant comments Monday, Iranian Deputy Foreign Minister Seyed Abbas Araqchi also asked the US not to put hurdles on the path of the Iran-powers talks.
"Our position is completely clear on the enrichment issue; enrichment is the Iranian people's right and therefore this right is not negotiable and we will never negotiate over enrichment itself," Araqchi said in an interview with the Iran-based Arabic-language al-Alam news channel.
"The dimensions, range, size and details of enrichment can be an issue for negotiations and as we have said, we are ready to pay attention to and remove the concerns, and not the excuses, of the other side," he added.
Asked about the Zionist media's claims about the details of the recent talks between Iran and the world powers in Geneva, which the two sides decided to keep confidential, Araqchi said, "They (Israel and the US) are no doubt partners and on the same front, but these are the Americans themselves who should prevent the destruction of the atmosphere of the negotiations."