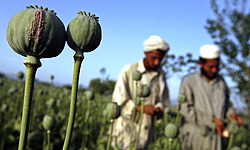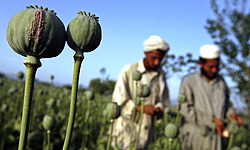 Iran on Monday once again lambasted the NATO forces in Afghanistan for increasing drug cultivation, production and trafficking in Afghanistan, saying almost all the world opium production is done in front of the eyes of the foreign troops in Afghanistan.
Deputy Head of Iran's Anti-Narcotics Headquarters Babak Dinparast on Monday deplored the weak performance of NATO and US forces in Afghanistan in combating narcotics.
He referred to the seizure of 12 tons of narcotics in Eastern Iranian in recent days, and said, "These seizures have been made as we are witnessing production of 95 percent of the world's opium in Afghanistan despite the presence (of the forces) of 48 countries in there."
Dinparast further reminded that war on narcotics was one of the reasons mentioned by the US-led western countries for their 2001 invasion of Afghanistan, while their soldiers have refused to take any measure to help combat drugs in practice.
Eastern Iran borders Afghanistan, which is the world's number one opium and drug producer. Iran's geographical position has made the country a favorite transit corridor for drug traffickers who intend to smuggle their cargoes from Afghanistan to drug dealers in Europe.
Iran spends billions of dollars and has lost thousands of its police troops in the war against traffickers. Owing to its rigid efforts, Iran makes 89 percent of the world's total opium seizures and has turned into the leading country in drug campaign.
The Iranian police officials maintain that drug production in Afghanistan has undergone a 40-fold increase since the US-led invasion of the country in 2001.
While Afghanistan produced only 185 tons of opium per year under the Taliban, according to the UN statistics, since the US-led invasion, drug production has surged to 3,400 tons annually. In 2007, the opium trade reached an estimated all-time production high of 8,200 tons.
Afghan and western officials blame Washington and NATO for the change, saying that allies have "overlooked" the drug problem since invading the country 10 years ago.