Iran
Middle East
North America
Iran Blasts Canada for Crackdown on Truck Drivers
Deputy Chief of the Iranian Judiciary and head of the country's Human Rights Headquarters Kazzem Qaribabadi slammed Canada for arresting and cracking down on protests held by the country's truck drivers.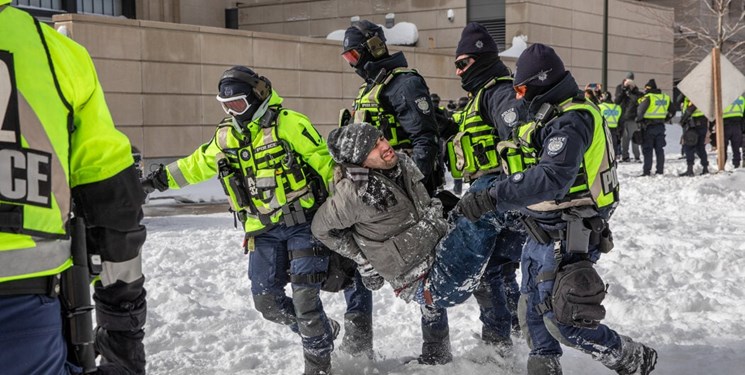 In a tweet on Sunday, Qaribabadi described the protesters as peaceful, saying their protest has been stifled in the so-called Land of the Free.
He also slammed the silence on the issue, and said, "Nobody ever dares to talk about egregious human rights violations taking place on a daily basis in Canada."
Police officers on Saturday cleared out the central area of a sprawling demonstration in Ottawa, moving from truck to truck and arresting protesters as they continued to subdue the occupation that has disrupted the Canadian capital for weeks.
Starting about 10 a.m., police advanced on trucks that had been parked on Wellington Street, the thoroughfare in front of the Parliament building, drawing guns on some vehicles and banging on doors as they searched for any people inside. They arrested several as other demonstrators shouted "Shame on you!" from nearby. In the heart of the main encampment on Saturday, the police pushed people back with batons and irritant spray and made more arrests.
In recent weeks, the demonstrations, which began with truckers rallying against vaccine mandates, have attracted a variety of protesters airing grievances about pandemic restrictions, claims of government overreach and Prime Minister Justin Trudeau's stewardship of the country.