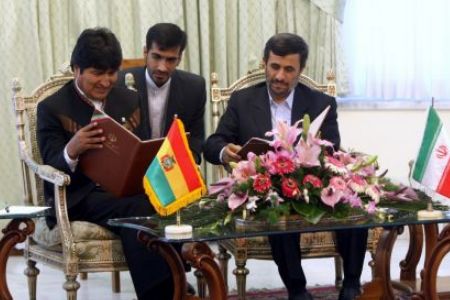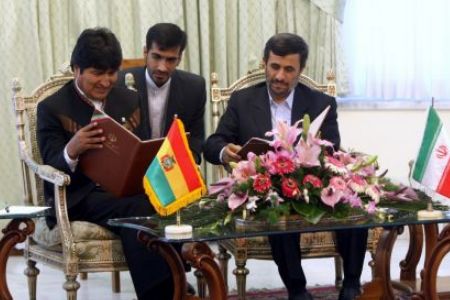 Iranian President Mahmoud Ahmadinejad has hailed newly-forged agreements with Bolivia as a step forward amid bigger plans aimed at tackling global crises.
"Iran and Bolivia share the same enemies, the same interests, and the same outlook on how to resolve global crises," Ahmadinejad said on Wednesday.
Speaking at a joint press conference with his visiting Bolivian counterpart Evo Morales, Ahmadinejad said Tehran and La Paz could tap into each other's potentials and expertise to flourish and counter their "enemies."
"We are quite acquainted with our enemy and its schemes, so [we] tread wisely," IRNA quoted the Iranian chief executive as saying on Wednesday, hours after the two countries inked five new memoranda of understanding (MoUs).
"All countries must be able to claim equal rights like the right to independence, respect, progress," Ahmadinejad added, echoing his remarks at a United Nations summit last month.
Earlier, Iranian Foreign Minister Manouchehr Mottaki and Bolivian Economy Minister Luis Arce Catacora penned a consular.
Iranian Economy Minister Seyyed Shamseddin Hosseini also signed an initial agreement with Catacora for the establishment of a joint Iranian-Bolivian bank as well as a line of credit deal.
The Bolivian head of state told the news conference that most of the agreements between the two countries centered on tapping into Iran's mining expertise and the Latin American nation's agricultural industry.
In a speech to the Iranian Parliament (Majlis) on Wednesday, Morales also said he was certain his country would win its battle against "imperialism."
"Imperialism dominated our country in all economic and human fields for years, but at the beginning of my presidency I tried to make fundamental changes and nationalize gas and oil for the interest of my nation," the visiting Bolivian president told Iranian lawmakers.