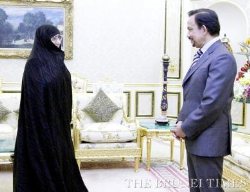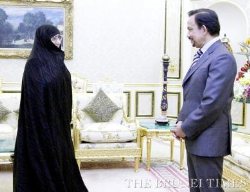 Iran's Vice-President for Legal Affairs Fatemeh Bodaghi said Iran-Brunei joint cultural areas pave the way for expansion of all-out relations between the two nations.
She made the remarks in a meeting with Brunei's Sultan Hassanal Bolkiah where she handed over the written message of President Mahmud Ahmadinejad to the Sultan, inviting him to attend the upcoming 16th Summit meeting of the Non-Aligned Movement (NAM) to be held in Tehran on August 26-31.
During the meeting, she underlined the need for promotion of bilateral ties in the areas of health and Islamic tourism in particular.
Referring to his previous visit to Iran, Sultan Bolkiah said he had had fruitful meetings with President Mahmoud Ahmadinejad.
He reiterated that his country will actively participate in the upcoming NAM meeting in Tehran.