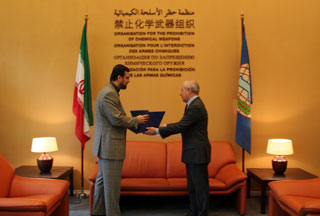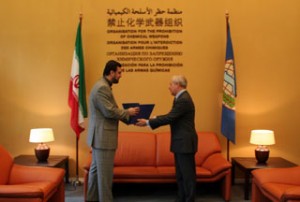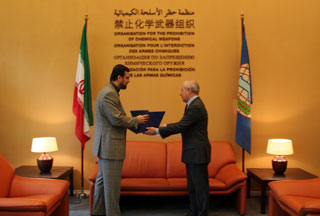 Iran says all countries that possesses chemical weapons, especially the United States, must decommission their respective arsenals as soon as possible.
The Iranian ambassador in the Netherlands, Kazem Gharib-Abadi made the remarks in a meeting with the director-general of the Organization for the Prohibition of Chemical Weapons (OPCW) at The Hague, Rogelio Pfirter.
Gharib-Abadi also submitted his credentials as Iran's new permanent representative to the OPCW.
The remaining stockpiles of chemical weapons, 12 years after the implementation of the treaty,are of serious concern to the international community, he said.
Referring to the fact that the Islamic Republic is one of the biggest victims of chemical weapons, Gharib-Abadi said that the Iranian people and government expected more attention to be paid to the needs of the victims of chemical weapons in line with Article 10 of the Chemical Weapons Convention (CWC).
He said that paving the way for authorized chemical activities and transactions on the basis of Article 11 of the CWC is of paramount importance for Iran and other developing countries and OPCW should fulfill its duties in this regard.
Ambassador Pfirter, for his part, said that Iran has been an important member of the OPCW since its onset. "Iran and OPCW should enhance the level of their collaboration."
Pfirter welcomed an invitation by the Iranian Foreign Minister Manouchehr Mottaki for attending an upcoming disarmament conference to be held in Tehran.