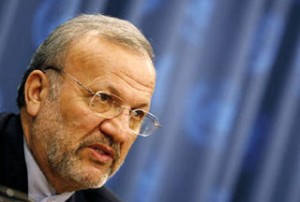 Iranian Foreign Minister Manouchehr Mottaki has urged the international community to foil an Israeli plot to change the identity of Jerusalem (al-Quds).
"Unfortunately, the recent developments and comments made over the past few months by the officials of the Zionist regime (Israel), clearly show the seriousness of the occupiers' plot to give a Zionist identity to the first kiblah of Muslims," Mottaki said in a statement on Thursday.
"This has raised the alarm for people across the globe and has highlighted the necessity of taking serious measures and maximizing potential in all Muslim nations," the statement added.
The Iranian minister said that the expansion of the Israeli settlements, the destruction of Islamic and Christian structures and the construction of new synagogues in Jerusalem (al-Quds) have unveiled the Israeli plot, "which, unfortunately, has been approved by Washington."
Mottaki warned that the Israeli plot will have "dangerous consequences."
He urged Arab states to put the issue high on the agenda of the Arab League conference, which is underway in Libya.
Mottaki also called for the formation of a committee consisting of the foreign ministers of the Arab League and the Organization of the Islamic Conference member states to discuss the latest developments in Jerusalem (al-Quds).