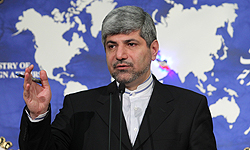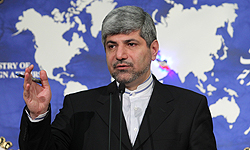 Iran on Friday called on the UN and the international institutions to take swift actions to stop Israeli crimes against Palestinians in the Gaza Strip.
"As the rotating president of the Non-Aligned Movement (NAM), the Islamic Republic of Iran expects all international institutions affiliated to the UN to adhere to their responsibilities towards the Palestinian nation," Foreign Ministry Spokesman Ramin Mehman-Parast said on Friday.
He said Tehran expects the UN to condemn Israel's "criminal and aggressive acts" against the Gaza Strip and adopt the necessary measures to prevent their recurrence.
Iran's reaction came following the death of six Palestinians in the latest Israeli attacks.
Three Palestinian people were killed and several others were injured after an Israeli tank fired a Flechette shell at a group of Palestinians in the Beit Hanoun town in the north of the coastal enclave on Thursday.
Three others lost their lives when an Israeli fighter jet targeted a car in central Gaza on Wednesday.