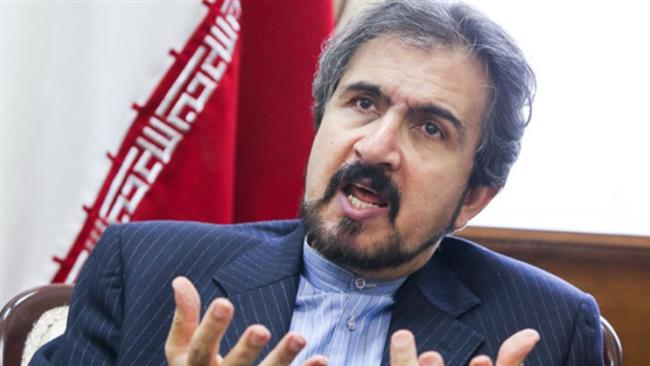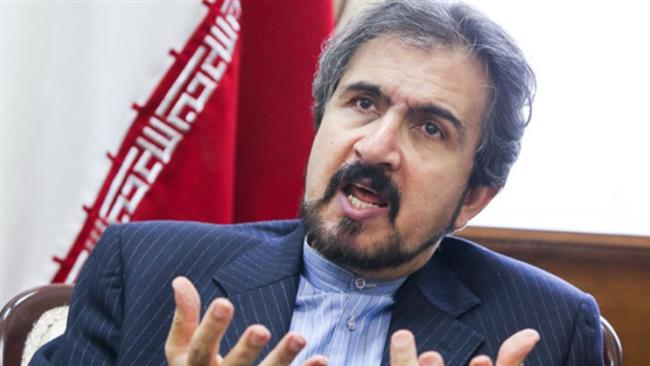 Iran has dismissed as "false" claims by a British official that Tehran was sending weapons to Yemen, saying it is rather the UK which should be held to account as a key supplier of arms to Saudi Arabia.
Foreign Ministry Spokesman Bahram Qasemi said Britain, as one of the two key arms suppliers to the "child-killing" Saudi regime, must answer to the world public opinion.
"Instead of making such false claims based on unsubstantiated reports, the British official had better be answerable for the inhumane behavior," he said in reference to UK Foreign Minister for the Middle East and Africa Tobias Ellwood.
Ellwood has claimed that Britain had "received reports implying that Iran has transferred arms to Yemen," but Qasemi turned the tables on the UK government.
The spokesman said the use of UK-made weapons by Saudi Arabia against innocent Yemeni civilians is "extensive and undeniable."
In July, Human Rights Watch (HRW) said it had "compelling evidence" that British weapons were being used by Saudi Arabia in the war on Yemen, including against civilian targets.
The New York-based international organization said Saudi Arabia had hit factories in Yemen with UK-made munitions, the remnants of which had been found at three different sites.
One of those munitions was a laser-guided Paveway bomb produced in May 2015, and supplied to Saudi Arabia shortly after the start of its war on Yemen, the report said.
Another was a UK-made air-launched cruise missile manufactured by a British company in the 1990s.
According to Amnesty International, the British government sold 2,400 missiles and 58 warplanes to Saudi Arabia last year alone, enabling the kingdom to continue its war against Yemen.
There are also reports that British military experts are training Saudis to use air-launched Storm Shadow cruise missiles, which rights activists say Saudi Arabia has used in Yemen.
The British government has been under fire in recent months for ramping up arms sales to Saudi Arabia, which stands accused of committing war crimes during its military campaign in Yemen. London has shrugged off international calls for an arms embargo on Riyadh.
On Wednesday, reports said the United States had approved the sale of more than 130 Abrams tanks, 20 armored recovery vehicles and other equipment worth about $1.15 billion to Saudi Arabia.
The Defense Security Cooperation Agency, which is part of the Pentagon and facilitates foreign arms sales, said the sale would contribute to US national security by improving the security of a regional ally.
Saudi Arabia launched its fatal campaign against Yemen on March 26, 2015 in a bid to bring back to power Abd Rabbuh Mansur Hadi, who has resigned as Yemen's president. More than 9,400 people have been killed in the Saudi airstrikes ever since.