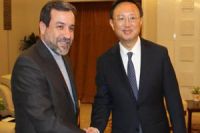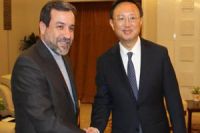 Iranian Deputy Foreign Minister for Asia and Oceania Abbas Araqchi says Iran and China have expressed their strong opposition to foreign intervention in Syria, calling for an immediate ceasefire in the Arab country.
According to Press TV, Araqchi said in a meeting with Chinese Foreign Minister Yang Jiechi in Beijing on Thursday "We and China believe that any development and change in Syria should be based on the country's public will and national dialogue among all Syrian sides."
He assessed as "good" his talks with the Chinese official and noted that Tehran and Beijing have similar stances on regional issues.
Iran and China stressed the importance of resolving the crisis in Syria through peaceful ways and without any foreign interference, he said.
Araqchi noted that the two countries also called for an immediate truce in Syria and an end to the shipment of weapons and financial support for the terrorist groups and added that Tehran and Beijing agreed to proceed with their close consultations in this regard.
Syria has been the scene of unrest since March 2011. Many people, including large numbers of security forces, have been killed in the turmoil.
At least 16 people were killed and several others wounded in a string of deadly explosions that rocked the Syrian capital Damascus on Wednesday. Syria blamed foreign-backed terrorists for the attacks.