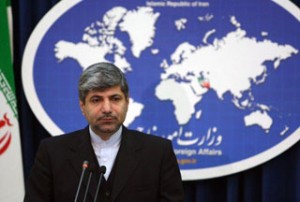 Iranian Foreign Ministry Spokesman has reacted to recent remarks by the US Secretary of State regarding Tehran's ties with Latin American countries.
Hillary Clinton on Friday alluded to Iran's business partners in Latin America, including Brazil, Venezuela and Bolivia, warning them of consequences of bolstering ties with Iran.
"We can only say that is a really bad idea for the countries involved," said the former first lady. "If people want to flirt with Iran, they should take a look at what the consequences might well be for them. And we hope that they will think twice," she said during a question-and-answer session at the State Department.
In his weekly press conference on Tuesday, Mehman-Parast said the comments infringed accepted diplomatic norms regarding the relations between the countries.
"I think it's evident enough that such comments are in contravention of diplomatic norms," he said, adding that the best evidence was the reaction of those countries in the ALBA conference, which "unanimously rejected and condemned such comments."
In response to Clinton's remarks, the Bolivarian Alternative for the Americas, a regional trade group known as ALBA, promised closer ties with Iran.
The leaders of ALBA, an alliance for regional integration between the countries of Latin America and Caribbean, pledged to further develop ties with Iran and denounced the US stance toward the Islamic Republic.
Venezuelan President Hugo Chavez said the oft-states remarks were "ridiculous."
"It's ridiculous, the threat of the secretary of state, and we aren't afraid of her," Chavez said.
Bolivian President Evo Morales also said that his country would not back down from holding closer relations with Iran.
This is not the first time that the US has expressed dismay over Iran's soaring popularity in Latin America, which it regards as its "strategic backyard."
Earlier in May, Clinton said that the US was "disturbed" by Iran's "gains" in the Latin America region.
Other than Venezuela and Bolivia, the Islamic Republic of Iran enjoys growing relations with other Latin American countries namely Brazil and Ecuador.
In his very recent visit to Latin America in November, Iranian President Mahmoud Ahmadinejad traveled to Brazil, Bolivia and Venezuela, where he signed several cooperation agreements and memoranda of understanding with South American leaders on joint ventures.
Nuclear issue
On supply of fuel for Tehran's reactor, the spokesman said Iran has already given its views on the issue, reiterating that the swap would be possible if Iran's "conditions are taken into consideration."
Iran has offered to exchange an amount of 1,200 kilograms of its enriched uranium – in three batches of 400 kilograms – for the equivalent of higher-enriched uranium on the Persian Gulf island of Kish.
While the West is yet to give an official response to the proposal, a US official, who requested anonymity, rejected the proposal, saying, "Iran's proposal does not appear to be consistent with the fair and balanced draft agreement proposed by the International Atomic Energy Agency [IAEA]."
In his press briefing, Mehman-Parast also appreciated Turkey's support for Iran's nuclear rights, which he said could set an example for other countries that hold friendly ties with Iran.
"The more our friends try to make the other side understand our rights, this is positive and we hope it would be effective."
Turkey has on several occasions defended Iran's nuclear program, dismissing sanctions as a proper solution to the issue.