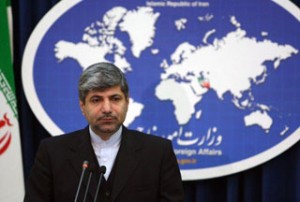 Iran strongly condemns the interference of foreign countries in its internal affairs after the US and Britain praised the group of people who held anti-government protests on the holy day of Ashura.
"Moves made by certain individuals aimed at violating the law and sanctities and confronting the Iranian nation on an exceptional day were incorrect and inappropriate. This is rebellion," Iranian Foreign Ministry Spokesman Ramin Mehman-Parast told reporters at his weekly press briefing on Tuesday.
"If countries support this violation of law and encourage the protestors, this is considered as interference in internal affairs of countries," he added.
"We seriously condemn such acts and think they run counter to prevalent principles in countries," said the spokesman.
The Iranian capital on Sunday was the scene of anti-government protests on the anniversary of the Shia Muslim Ashura religious event, during which people commemorate the 7th century martyrdom of Prophet Muhammad's (PBUH) grandson, Imam Hussein (PBUH).
Police used tear gas to disperse the protesters who used the religious ceremony to chant slogans against the government. Eight people were killed during the unrest.
Police say the force was not involved in the killings, adding that the incidents are under investigation.
Washington and London were quick to criticize Tehran for ordering the security forces to disperse the protesters, with the White House strongly condemning the "violent and unjust suppression" of civilians and pronouncing its support for the riots.
On Monday, British Foreign Secretary David Miliband, in a statement issued in London, hailed the "great courage" of those who took part in illegal protests in Tehran, during which several people were killed and public property was damaged.
Miliband blamed the Islamic Republic for the deaths, saying they were "yet another reminder of how the Iranian regime deals with protest."
Mehman-Parast reacted to remarks by Miliband about the unrest in Tehran on Sunday.
"The British Ambassador to Tehran (Simon Lawrence Gass) will be summoned to the Foreign Ministry on Tuesday to give explanation about events on Ashura day," Mehman-Parast said.
Mehman-Parast reiterated that certain Western countries "are making mistaken calculations."
"They mistakenly make comparison between moves made by only few thousands of people with tens of million of Iranians," he concluded.