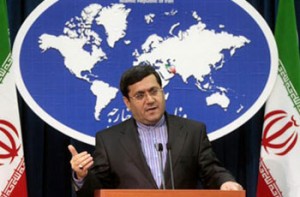 Iran's Foreign Minister Hassan Qashqavi has condemned an IDF-supported attack against Palestinians in the holy Al-Aqsa mosque in Jerusalem (al-Quds).
In a statement released on Tuesday, Qashqavi said the incursion, which resulted in the injury of scores of Palestinian prayers, is a clear example of Israeli violations of human rights in the occupied territories.
Qashqavi also called for an end to Israel's repeated acts of aggression against Palestinians and Muslims.
"Israel's attack against the third holiest Islamic site, which was staged with the full support and assistance of Israeli soldiers, should be faced with a severe reprimand."
With the full blessing of Israeli soldiers, a group of Israeli settlers — people illegally living on Palestinian land — stormed the al Aqsa mosque premises on Sunday and injured more than 16 Palestinians.
The Muslim world reacted in shock to the incident with the Islamic Conference Organization issuing a strongly worded statement to condemn Israel's violation of the sanctity of al-Aqsa Mosque.
The attack brought back bitter memories from September 1990 when former Israeli prime minister Ariel Sharon entered the al Aqsa compound with more than 2,000 military forces. The move gave rise to the second Intifada.
According to statistics obtained by the Palestinian News Network (PNN), more than 6,000 Palestinians have been killed with nearly 50,000 others wounded since the beginning of the second Intifada.
Sixty-nine thousand Palestinians, meanwhile, have been arrested, including 7,800 children.