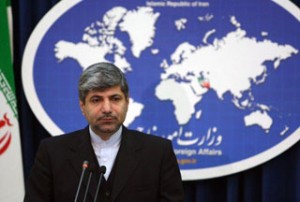 Iran describes the Swiss referendum banning the construction of minarets in the country an "Islamophobic act" and a blow to the religious freedom declared in the West.
"We consider such acts as inappropriate … a move that is against the western claims of democracy and religious freedom," Foreign Ministry Spokesman Ramin Mehmanparast said on Tuesday.
Speaking at his weekly press briefing in Tehran, Mehmanparast said "surprisingly some of the actions of the West have Islamophobic roots."
A clear majority of 57.5 percent of the Swiss population and 22 out of 26 cantons (provinces) on Sunday voted in favor of the ban on the construction of minarets — a distinct architectural feature of Islamic mosques from which Muslims are called to prayer.
The country's largest party, the nationalist Swiss People's Party (SVP) and the Federal Democratic Union joined forces to convince people that the minaret posed a threat to Switzerland's future.
In their campaign posters, allowed under freedom of speech despite their Islamophobic depiction, the Swiss flag is seen covered with missile-like minarets next to a menacing figure of a woman cloaked in a black burqa.
Switzerland is home to some 400,000 Muslims and only four minarets.
The government acceded to the vote, saying, "The Federal Council (government) respects this decision. Consequently the construction of new minarets in Switzerland is no longer permitted."
Amnesty International said last week that "the ban on the construction of minarets would breach Switzerland's obligations to uphold freedom of religion."
"A change in the constitution which would provide for the blanket ban on the construction of minarets must be soundly rejected. Such a move is important as it will reinforce the equality of rights for all people living in Switzerland," said Europe and Central Asia Programme Director at Amnesty International, Nicola Duckworth.