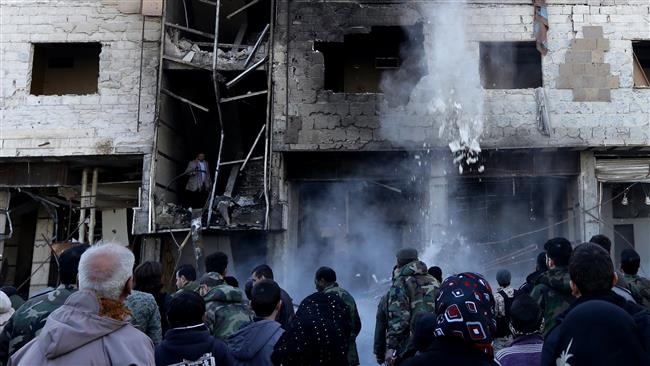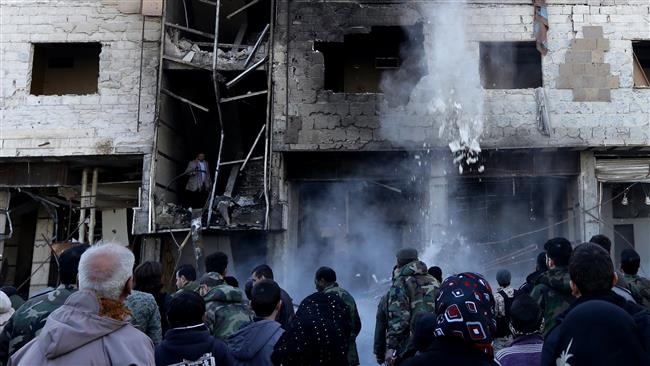 The Iranian Foreign Ministry has condemned deadly bomb attacks near a holy shrine in the Syrian capital, Damascus, saying foreign-sponsored militants are disrupting UN-brokered peace talks.
On Sunday, three blasts hit an area near the holy shrine of Hazrat Zeinab, the granddaughter of the Prophet Muhammad (Peace Be Upon Him), killing at least 50 people and injuring 100 others. Takfiri Daesh militants claimed responsibility of the attacks.
This came while delegates from the Syrian government and its divided opposition groups gathered in Geneva, Switzerland, for the UN-brokered negotiations to end the country's conflict.
"By continuing to kill innocent people simultaneous with Geneva [peace] talks, foreign-backed terrorists are determined to disrupt the process taking shape for the political settlement of the Syria crisis and putting an end to this humanitarian disaster," Iran's Foreign Ministry spokesman Hossein Jaberi Ansari said.
He reaffirmed Iran's call for an end to the policy of supporting terrorist groups and dispatch of arms and military forces to Syria.
The first blast came after a car bomb exploded at a bus station near the holy shrine, official SANA news agency said, adding that two bombers then set off their explosive belts after people gathered at the scene.
Bashar al-Ja'afari, the head of the Syrian government delegations to the talks, said at a press conference during the Geneva talks that the bomb attacks in Damascus are proof of the link between the so-called opposition delegates and the terrorists in the country.
"What is regrettable is not only the explosion but the declarations of one of the leaders of the Southern front (a coalition of militants in Syria) on the ground. This confirms what the Syrian government has said over and over again that there is a link between terrorism and those who sponsor terrorism from one side and some political groups that pretend to be against terrorism. Unfortunately, this is the beginning of Geneva 3 talks that Syrian government and Syrian people count on," he said.
EU Foreign Policy chief Federica Mogherini also condemned the bombings in a statement, saying the attacks "near the Sayeda Zeinab shrine is clearly aimed to disrupt the attempts to start a political process."
The talks are to be held in an 18-month timetable under a resolution unanimously approved by the UN Security Council on Syria last December.
Resolution 2254 endorses a roadmap for a peace process in Syria. It also calls for a nationwide ceasefire in the Arab country, the formation of a "credible, inclusive and non-sectarian" government within six months and UN-supervised "free and fair elections" within 18 months.
UN Special Envoy for Syria Staffan de Mistura, however, has reportedly hinted that the foreign-back opposition groups in Syria, who enjoy support from regional and Western powers, including Saudi Arabia, Turkey and France, could try to sabotage the peace talks.