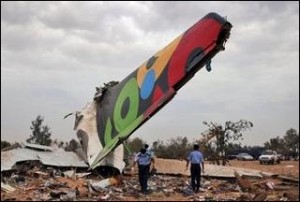 Iranian President Mahmoud Ahmadinejad has offered his condolences to the Libyan government over a plane crash that killed more than one hundred people.
In a message to Libyan leader Muammar Gaddafi, President Ahmadinejad offered the Iranian nation and government's condolences to the Libyan government and people.
Of the 105 people aboard, 93 passengers and 11 crewmembers lost their lives when the passenger plane crashed at the international airport in the Libyan capital of Tripoli on Wednesday.
The aircraft, an Airbus 330, belonged to the Tripoli-based Afriqiyah Airways and was arriving from Johannesburg, South Africa.
The passengers are said to be Libyan, African, and European nationals. A 10-year-old Dutch boy is the only known survivor.
The cause of the incident is not known yet.