Iran
Middle East
Saudi Arabia
Iran Confirms Report on Mediation between Tehran, Riyadh
Iranian Foreign Ministry Spokesman Seyed Abbas Mousavi confirmed on Tuesday that third-party states are holding talks with Tehran for resolving conflicts between the Islamic Republic and Saudi Arabia.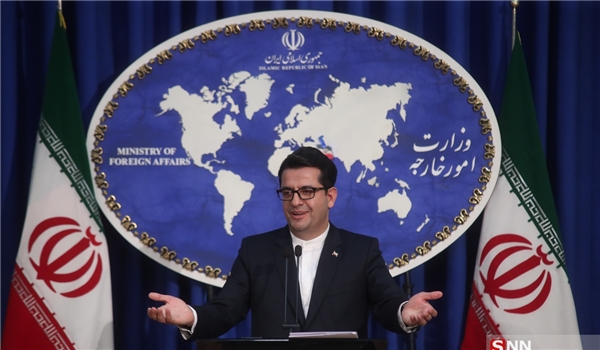 Speaking in an interview with Anadolu news agency, Mousavi confirmed that some back-channel efforts are underway by certain states which "have voiced their interest in bringing the viewpoints of Tehran and Riyadh closer to each other, deescalate the situation and remove misunderstandings in a bid to prevent third-parties from misusing the Iran-KSA disagreements".
He voiced Tehran's readiness for talks, adding that his country holds that resolution of disputes will have benefits for both countries, nations, and the region and even the whole world.
Mousavi underlined that Iran and Saudi Arabia are the two major countries in the Islamic world and disputes between them can have negative consequences for the whole region.
He once again repeated Tehran's initiative that the Hormuz Peace Endeavor (HOPE) is open to all countries of the region including Saudi Arabia.
On Monday, Iranian Foreign Minister Mohammad Javad Zarif voiced his readiness for a visit to the Saudi capital city of Riyadh for settling bilateral disputes between the Islamic Republic and the kingdom, reiterating that Tehran has always been a supporter of regional peace and cooperation.
"If suitable conditions are provided, I would be ready to travel to Riyadh to settle differences" between the two countries, Zarif said, answering a question posed by Yemen's Arabic-language al-Masirah news agency on the sidelines of a conference held in Tehran themed "Unilateralism and International Law".
"Tehran welcomes any initiative that aims to ease tensions in the region and will cooperate [with other parties] to end Yemen's war," he added.
Zarif once again reiterated the Islamic Republic's policy for supporting the Yemeni people, saying, "Iran will always stand by the Yemeni nation and we believe that the end of war will first of all help the Yemeni people."
Elsewhere in his remarks, the Iranian foreign minister said he is in constant contact with Pakistani Prime Minister Imran Khan in relation to developments in Yemen.
Later on Monday, Zarif visited an industrial complex in Tehran Province, on the sidelines of which he talked to reporters, further explaining about his readiness to visit Saudi Arabia.
"Nothing new has happened. We have always been ready to travel to neighboring countries and to go to neighboring countries," Iran's foreign minister said.
"The Islamic Republic's [friendship] hand has been always extended toward regional countries and if there are [necessary] grounds and neighboring countries are also ready for cooperation, we will definitely be prepared [to do this]," Zarif pointed out.
Earlier this month, Pakistani prime minister made an official visit to Tehran and held talks with President Hassan Rouhani and Supreme Leader of the Islamic Revolution Ayatollah Seyed Ali Khamenei where the issue of Saudi Arabia's aggression against Yemen was thoroughly discussed.
Ayatollah Khamenei, during the meeting with Khan, underlined that a legitimate end to the ongoing war waged by Saudi Arabia and its allies on Yemen can have positive impacts on the region, and said Tehran's plan is a suitable solution to the ongoing crisis there.
"The Islamic Republic of Iran has for a long time presented a four-point plan to end the war in Yemen," the Leader added.
"The end of this war in the proper way can have positive effects on the region," the Supreme Leader added.
The Supreme Leader, meantime, lauded Pakistan's concern about the establishment of peace and security in the region, and said that West Asia is a "very sensitive and critical" region.
Ayatollah Khamenei also expressed regret over the destructive role played by "some regional countries" through their support for terrorist groups in Iraq and Syria and causing war and bloodshed in Yemen.
"We have no motivation for being hostile toward these countries, but they are under the influence of America and act against the Islamic Republic of Iran in line with what America desires," he added.
The Supreme Leader emphasized that the Islamic Republic has never initiated any war, saying, "If someone starts a war against Iran, they will undoubtedly regret it."
In April 2015, Zarif submitted a four-point peace plan for Yemen to the United Nations in an attempt to end the bloodshed in the Arab country.
"It is imperative for the international community to get more effectively involved in ending the senseless aerial attacks and establishing a ceasefire," Zarif said in the letter.
He added in the letter that Tehran is ready to cooperate with the UN "to facilitate and encourage an immediate end to these senseless bombardments and initiation of a genuine dialogue to find a political solution to this tragic crisis".