Africa
Iran congratulates Mugabe the President of Zimbabwe on re-election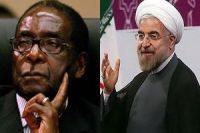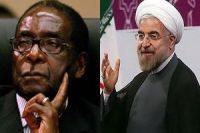 Iranian President Hassan Rouhani has officially congratulated Robert Mugabe on winning presidential elections by a landslide and his re-election as the president of Zimbabwe.
According to Press TV, in a congratulatory message on Monday, Rouhani described Mugabe's re-election as a sign of trust and support of the Zimbabwean nation for him and his administration.
The Iranian president also voiced satisfaction with growing relations between the two countries, and expressed hope that Tehran- Harare ties will further flourish in diverse areas in the future.
Rouhani wished Mugabe good health and success during his new term in office, and the Zimbabwean nation prosperity.
On August 22, Mugabe was sworn in for a new five-year term in a massive stadium inauguration that was boycotted by his election rival.
Mugabe, 89, pledged "to observe, uphold and defend the constitution of Zimbabwe" in an oath administered by Chief Justice Godfrey Chidyausiku, extending his 33-year rule.