Iran
Middle East
Iran decries certain countries' political abuse of Ukraine plane crash
Iran's Foreign Ministry has decried the "abuse" of Iran's accidental downing of Ukraine plane by some countries who pursue certain "political plots" against Iran.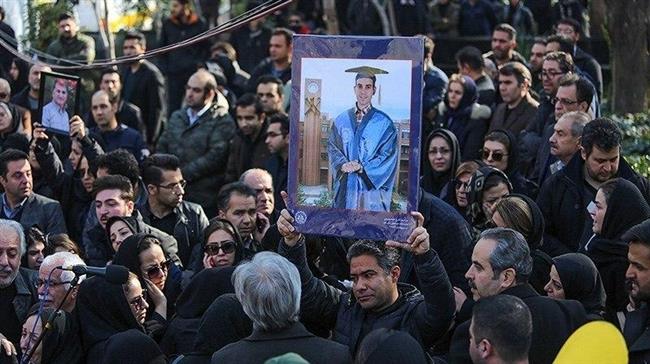 "We urge all sides to not abuse humanitarian issues – specifically this tragic incident – in a bid to make political gestures and pursue their political dreams," Foreign Ministry spokesman Abbas Mousavi said on Friday.
"For the sake of the mourning families, allow procedures to continue as they currently are in a natural matter, far from diversions," he added.
The Ukrainian plane, en route to Kiev and carrying mostly Iranian passengers, crashed minutes after take-off near the capital Tehran on January 8, killing all 176 on board.
Among the victims were also citizens from Canada, Ukraine, Sweden, Afghanistan and the United Kingdom.
Despite attributing the crash to technical failure in initial assessments, Iran ultimately said that the plane had been brought down by a missile fired "unintentionally" due to "human error" after further investigations on Saturday.
Iran's Judiciary: Arrests made over downing of Ukraine jetlinerIran's Judiciary says a number of individuals have been arrested as extensive investigations are underway into last week
After the crash, Iranian Foreign Minister Mohammad Javad Zarif said human error at time of crisis caused by US adventurism led to disaster.
Iran lays 21 victims of plane crash to restIranian cities host funeral processions and burial ceremonies for 18 of the 176 people who died last week in a Ukrainian flight crash.
Mousavi's Friday remarks came in response to a joint meeting and statement made by the foreign ministers of the five countries whose citizens were also among the crash victims.
On Thursday, the foreign ministers called on Iran to pay compensation for the victims and to conduct "thorough, independent and transparent international investigation open to grieving nations".
Following the meeting, Canadian Foreign Minister Francois-Philippe Champagne warned Iran that "the world is watching" the country.
In his Friday remarks, Mousavi expressed disappointment that such a meeting had been held and that certain negative comments had been made regarding Iran.
"Seeking to console the mourning families and addressing the humanitarian implications of this incident, we have had very smooth and beyond usual cooperation with the delegations of these countries," he said.
Mousavi also decried the words of the Canadian foreign minister, which he said came despite Iran's cooperation and progress in matters regarding the incident.
The spokesman added that Champagne had called on Tehran to provide consular services despite the fact that Iran had already provided the services to facilitate matters related to the plane crash.
Iran offers full consular services to the bereaved of plane crashForeign Minister Zarif tweeted, "Embassies have also been instructed to facilitate assistance to families/friends of victims."
Mousavi said Tehran had in previous years repeatedly called on Ottawa to allow for bilateral consular representation regardless of the two countries' diplomatic relations in order to respect the rights of individuals which need the services.
The spokesman said that Canada had rejected talks over the matter as it was following Washington's policy in pressuring Iranian citizens and residents.
In 2012, Ottawa severed diplomatic ties with Iran, citing, among other pretexts, what it described as continued threats from Tehran to its ally, Israel.