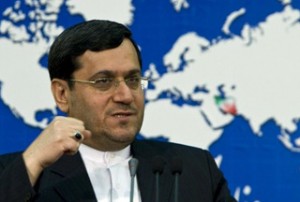 Iran's Foreign Ministry says French academic Clotilde Reiss, who has been detained in Iran on charges of espionage, is not a political victim despite French government's efforts to portray her case otherwise.
"Unfortunately, she [Reiss] violated the country's laws and intentionally carried out a series of offenses, such as illegal residence, participation in illegal protests and intelligence gathering for the French embassy," the ministry's spokesman, Hassan Qashqavi, said Wednesday.
"In addition to these undeniable facts, Ms. Reiss plainly confessed to her crimes in the various stages of trial and asked the Iranian people to pardon her," he added.
His comments came two days after the French Foreign Ministry said that Tehran should take a step further and drop the charges against Reiss and detained French Embassy worker, Nazak Afshar, both of whom have been released on bail.
"Despite these realities, French officials… are trying to portray the individual's arrest as a political reaction by Iranian officials. Such an analysis is biased and irrational," Qashqavi said.
Reiss, who was working as an assistant teacher of French at Isfahan University, was detained on July 1 on charges of espionage.
On August 8, she stood trial among several Europeans following the post-vote violence.
During a court address, she confessed to taking part in 'illegal protests' and writing to the French embassy and about 50 friends or members of her family about the events unfolding in Iran.
On Sunday, she was released on a $300,000 bail. She is currently staying at the French Embassy in Tehran pending the verdict in her case.