Iran
Iran Disbands 3 Terrorist Groups at Western, Eastern Borders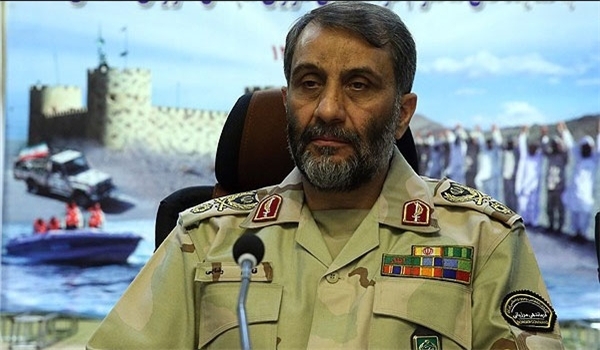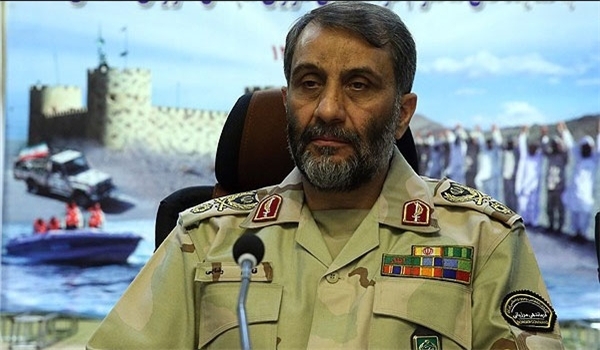 Commander of Iran's Law Enforcement Border Guards Brigadier General Qasem Rezayee announced that his forces have disbanded three terrorist groups with plots to carry out sabotage acts in the country in the past Iranian year (ended on March 19).
"Members of three terrorist groups were arrested at the country's Eastern and Northwestern borders," Rezayee told reporters in a press conference in Tehran on Wednesday.
"These terrorist groups were identified and arrested in separate operations by Iran's dedicated border guards at the Eastern and Northwestern borders last year," he added.
Rezayee explained that one of the disbanded terrorist groups included a Pakistani and two Iranian nationals who were carrying advanced equipment.
In relevant remarks earlier this month, Iranian Interior Minister Abdolreza Rahmani Fazli announced that the security and intelligence forces have foiled dozens of terrorist plots in different parts of the country last year.
"We didn't have any security incident last (Iranian) year and tens of terrorist and outlawed incidents which were due to happen in the country on different occasions were defused due the security and law enforcement police forces' vigilance and monitoring," Rahmani Fazli said in Tehran.
He also underlined Iran's positive role in the regional developments last year, and said the country helped the regional Muslims fight against terrorism, violence and drug trafficking.
Also, on Monday, Iran's Ground Force Commander Brigadier General Ahmad Reza Pourdastan announced that the country's border guards killed two ISIL terrorists who planned to conduct suicide attacks in late February.
"An ISIL-affiliated group entered Iran in February and we confronted them and killed two of them who had come with suicide vests," Pourdastan told reporters in a press conference in Tehran.
Stressing that Iran has equipped and prepared its border guards to stand and prevent terrorists' sneaking into Iran, he said, "Certain regional states want the terrorist grouplets to extend their threats to our borders but we don't see any threat."
Late February, a provincial authority announced that a number of terrorists who were planning to strike the capital city following the parliamentary elections were killed after crossing Iran's Western borders.
"The security and military forces disbanded a terror cell in the Soumar and Naft Shahr region yesterday morning," Director of Kermanshah Governor-General Office for Security and Law Enforcement Affairs Nosratollah Moradi told reporters.
He said the terrorists were armed with bombs, suicide and explosive vests, grenades, pistols and some US dollars.
"They were planning to carry out terrorist attacks in Tehran," Moradi added.
His remarks came after Deputy Interior Minister for Security and Law Enforcement Affairs Hossein Zolfaqari said on February 28 that security forces disbanded a terrorist cell in Western Iran.
"This morning two terrorists crossed the Western borders (in Soumar region). They were killed by border guards and security forces on the spot," Zolfaqari told reporters in Tehran.
He said several other terror plots were also foiled before and during the February 26 elections.