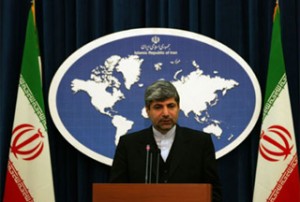 Iran has dismissed a recent report by an American paper which claimed Tehran was seeking nuclear weapons in the late 1980s.
Iranian Foreign Ministry Spokesman Ramin Mehmanparast described the report as a "propaganda ploy that shows Washington's ultimate frustration."
In a Sunday article titled 'Iran's attempted deal with Pakistan,' The Washington Post, quoted Abdul Qadir Khan, the father of Pakistan's nuclear weapons program, as claiming that Tehran had attempted to purchase nuclear weapons and know-how from Islamabad.
The Post bases its report on "never officially disclosed" material written by Khan while under house arrest in 2004, but does not provide a source for its story.
"The US is using such allegations to deprive the Iranian nation of its nuclear rights, which have been internationally recognized," Mehmanparast said Monday, adding that Washington was following an "Iranophobia project" to justify its military presence in the Middle East.
The Washington Post report comes while Abdul Qadir Khan has repeatedly dismissed such allegations.
Abdul Basit, Pakistani Foreign Office spokesman, also rejected the report on Monday and said, "It is yet another repackaging of fiction which surfaces occasionally for purposes that are self-evident."