Latin America
North America
Iran Dismisses US' Claims on Receiving Gold from Venezuela as "Baseless"
Iranian Foreign Ministry Spokesman Abbas Mousavi strongly rejected the US diplomats' claims on cooperation between Tehran and Caracas, saying Washington is just seeking to impede the Venezuelan government's plan for reconstructing refineries to make up for the shortages that the Latino nation has been suffering due to the US sanctions.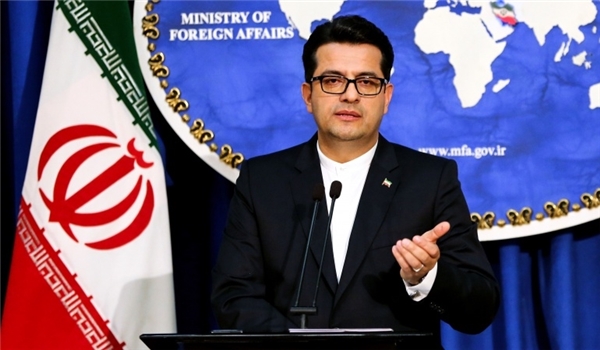 "Such baseless allegations have been made in line with putting more pressures on the Venezuelan government and disturbing Iran-Venezuela trade ties," Mousavi said.
He noted that the US Administration which has been defeated in implementing its policies in Venezuela, including "imposing economic sanctions, promoting military threat and recently formation of a transitional government due to Venezuelan people and government's resistance, is now trying to impede the Venezuelan government's plan reconstruct its refineries to make up for the nation's shortage of oil byproducts like gas that have appeared as a result of the US cruel sanctions".
US Secretary of State Mike Pompeo claimed this week that Iran's Mahan Air has regular flights to Caracas several days a week to supply Iranian aid to the Venezuelan government.
Later, US envoy for Venezuela affairs Elliott Abrams has recently claimed that Iran is helping Venezuela with the construction of refineries and is paid back for its services in gold.
"Those planes that are coming in from Iran that are bringing things for the oil industry are returning with the payments for those things: gold," the diplomat added.
In a relevant development on June 19, 2019, Secretary of Iran's Supreme National Security Council Ali Shamkhani in a meeting with his Venezuelan counterpart Pasqualino Anjolillo Fernandez, reiterated Tehran's support for Nicolás Maduro, and called for the formation of an international front to support the democratically elected president of the Latin American country.
During the meeting on the sidelines of the 10th international security forum in the Southern Russian city of Ufa, Shamkhani and Fernandez exchanged views on the latest political and security developments in the Latin American country.
The two sides also condemned the US interventionist policies in Venezuela, where Washington is trying to impose its will over the independent country.
Tehran and Caracas called for the formation of an international political front to support the legal government of Venezuela in order to counter Washington's expansionist policies and avarice.
Shamkhani, in the meeting, offered gratitude for the anti-US resistance practiced by the people and government of Venezuela, reassuring that Tehran will remain supportive of Caracas with all its capacities.
Earlier in May 2019, Advisor to the Iranian Parliament Speaker Hossein Amir Abdollahian said that the people of Venezuela will disappoint US President Donald Trump who is stepping up pressures on the legitimate government of Caracas.
Venezuelans will turn down US President Donald Trump who is thirsty for petrodollar, and will make decisions by themselves, Amir Abdollahian said in a tweet on May 6, adding that Washington's pressure on oil-rich country of the South America proves irreplaceability of Iranian oil.
"Mounting pressure of the US Administration for 'regime change' in oil-rich Venezuela proves Iran's oil can't be replaced. Iran will strongly continue to export oil with no limitation," he underlined.
Iran has condemned Washington's interference in the internal affairs of Venezuela, censuring the US for attempting to stage a coup against the legitimate government of the South American country.
Also in May 2019, Mousavi warned Washington against any type of meddling in Venezuela, after Caracas announced that it had foiled an attempt by a number of military defectors to overthrow President Maduro, who had been under pressure from US-backed opposition leader Juan Guaido to step down.
"The Islamic Republic condemns US attempts to stage a coup or any other type of military action in Venezuela," the Iranian diplomat underlined.
The remarks came after Pompeo, former Defense Secretary Patrick Shanahan and former National Security Adviser John Bolton expressed full support for the opposition and announced that the US military was ready to join their anti-Maduro push.
"Threatening to use force against other countries is a stark violation of international laws, particularly the United Nations Charter," Mousavi said. "We expect all members of the international community to condemn such remarks and act accordingly."
"Unfortunately the global stability is under threat by some hawkish and lawless vandals, and it is imperative that all members of the international community use what's in their power to resolve the issue," he added.