Iran
Iraq
Middle East
North America
Qasem Suleimani
Iran DM Reiterates Precision-Striking of Iranian Missiles Fired at US Base in Iraq Last Month
Iranian Defense Minister Brigadier General Amir Hatami said that all missiles fired at the US Ein al-Assad base in Iraq in retaliation for assassination of General Soleimani last month hit their specified targets.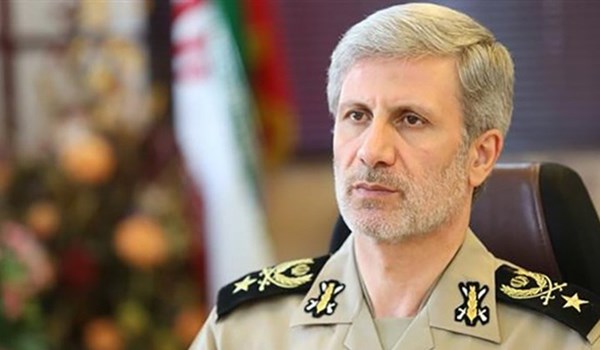 "We hit the same areas in Ein al-Assad that we had planned before and no missile missed the target," General Hatami said, addressing a meeting in Kerman province in Southeastern Iran on Tuesday.
He said that after assassination of IRGC Qods Force Commander Lieutenant General Qassem Soleimani and Iran's response to the terrorist attack, the enemies (the US) have not spoken of military option against Iran anymore.
"We do not need to repeat that if you (the US) make a mistake, what we will do. They themselves know our response," General Hatami said.
Lieutenant General Soleimani was assassinated in a US drone strike on Baghdad International Airport in Iraq on January 3.
The airstrike also martyred Abu Mahdi al-Muhandis, deputy commander of Iraq's Popular Mobilization Forces (PMF), or Hashad al-Shaabi. The two were martyred in an American airstrike that targeted their vehicle on the road to the airport.
Five Iranian and five Iraqi militaries were martyred by missiles fired by the US drone at Baghdad International Airport.
On January 8, the IRGC Aerospace Force started heavy ballistic missile attacks on US Ein Al-Assad airbase in Southwestern Iraq near the border with Syria and a US operated airbase in Erbil in retaliation for the US assassination of General Soleimani.
Ein Al-Assad is an airbase with a 4km runway at 188m altitude from sea levels, which is the main and the largest US airbase in Iraq. Early reports said the radar systems and missile defense shields in Ein Al-Assad failed to operate and intercept the Iranian missiles. Unofficial reports said the US army's central radar systems at Ein Al-Assad had been jammed by electronic warfare.
The second IRGC reprisal attack targeted a US military base near Erbil airport in Iraqi Kurdistan Region in the second leg of "Martyr Soleimani" reprisal operation.
Iraq said the attacks had not taken any toll from its army men stationed at these two bases. The US army had blocked entrance into Ein Al-Assad to everyone, including the Iraqi army.
It was the first direct attack on the US army ever since world war two.
The IRGC officials said none of the missiles had been intercepted.
In relevant remarks last month, Commander of the Islamic Revolution Guards Corps (IRGC) Major General Hossein Salami underlined Washington's incapability to give a military response to Iran, saying that the case with the recent missile strikes at the US base in Iraq further displayed this inability.
"The US declared after the cowardly assassination of martyred General Qassem Soleimani that if any threat is posed to the US, it will issue a military response; but the IRGC slapped them in the face by targeting the United States' key base and Trump failed to issue a response to the attack," General Salami said, addressing Basij (volunteer forces) commanders in Tehran.
He reminded that enemies leave no stone unturned and lose no chance to hit a blow at the Islamic Republic and the Revolution, "but despite all their plots and attempts, they have understood that military threat against Iran is useless and will backfire on them and will make them regretful".