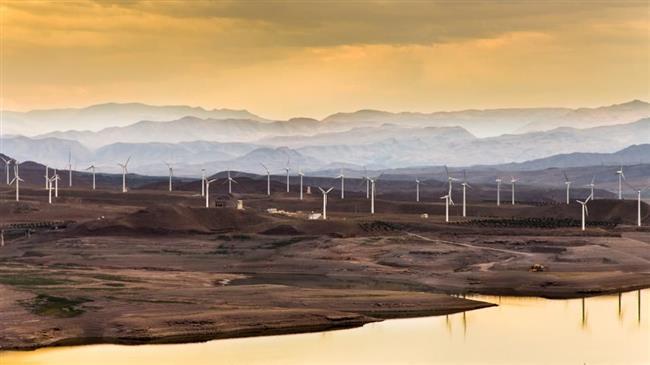 Iran dominated the Middle East's renewable production capacity which rose 13 percent to 22,710 megawatts (MW) last year, the International Renewable Energy Agency (IRENA) says.
Iran accounted for 57 percent of the Middle East's total in 2019 and 63 percent in 2018, the agency said in a report.
Renewables accounted for 26 percent of total power capacity expansion last year in the Middle East, it said.
Hyropower comprises the bulk of Iran's renewable capacity, nominally put at 12,000 MW. Hydroelectric plants, however, produced less for many years because of a protracted drought which caused dam levels to plunge.
According to officials, Iran's hydroelectric power plants can produce at least 10,000 MW.
The country has an additional renewable production capacity of some 900 MW from other sources such as wind power, solar farms and burning of biomass and waste.
Renewable energy is booming in Iran, but US President Donald Trump's more confrontational attitude has disrupted Tehran's expansion plans.
Iran opens large-scale onshore wind farm with 50 MW of capacity
One of Iran's largest onshore wind farms has been opened in a region northwest of the country.
Before Trump reimposed sanctions on Iran in May 2018, the Islamic Republic expected its installed renewable capacity to grow at least sevenfold over the next five years.
Norway's Saga Energy cancelled a $2.9 billion deal to install 2,380 megawatts (MW) in renewable capacity in the oil-producing country.
British firm Quercus had signed a deal to help build the world's sixth-largest solar farm in central Iran, investing over half a billion euros, but it abandoned the project in fear of the US sanctions.
Dutch energy firm Global Renewables Investments (GRI) planned to build up solar and wind farms that could produce up to 1,700 MW of electricity, but it followed its European peers in leaving Iran.
Iran's ambition is to install 5,000 of renewables by 2022, according to officials. The country is a signatory of the 2015 Paris climate agreement committing 195 nations to limit their carbon emissions.
Scientific studies suggest that Iran can increase electricity generation from the renewables to up to 80,000 MW, of which around 80 percent can come from the solar energy.
Increase in renewable capacity can also allow Iran to free up a significant amount of natural gas burnt in thermal power plants and feed it to export pipelines.
Among other oil producers in the Middle East, Saudi Arabia's renewable energy capacity stands at less than 400 MW, while the UAE's is put at 1,885 MW. Kuwait's capacity expanded to 106 MW from 55 MW last year, while Iraq's was unchanged at 2,311 MW and Qatar stayed at 43 MW, according to data provided by IRENA.