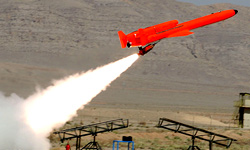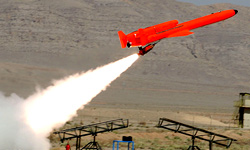 Iran's defense chief says home-made drones are not only able to gather information, but possess 'operational capabilities' as well.
"These (Iranian) drones have numerous applications", Iranian Defense Minister Brigadier General Ahmad Vahidi told Fars News Agency on Sunday.
"They can not only record and transmit images, but possess operational capabilities as well", the top general underlined.
He said the Karar drone unveiled on Sunday has a flight radius of 1000 km, adding Iran has other unmanned aerial vehicles (UAVs) which can fly the same distance.
"The Karar bomber drone has numerous capabilities, namely having a long operational radius", he added.
"The jet-propelled unmanned plane can also gain altitude", he said.
Earlier Sunday, Iran unveiled its first domestically-manufactured long-range unmanned aerial vehicle (UAV) in a ceremony marking Defense Industry Day in the country.
The Karrar UAV is capable of carrying a military payload of rockets to carry out bombing missions against ground targets. It is also capable of flying long distances at a very high speed.
Iran's defense industries have demonstrated spectacular progress in the recent year, launching numerous domestically-built armaments, including aerial and sea-borne military vehicles such as submarines, combat frigates and various types of missiles.