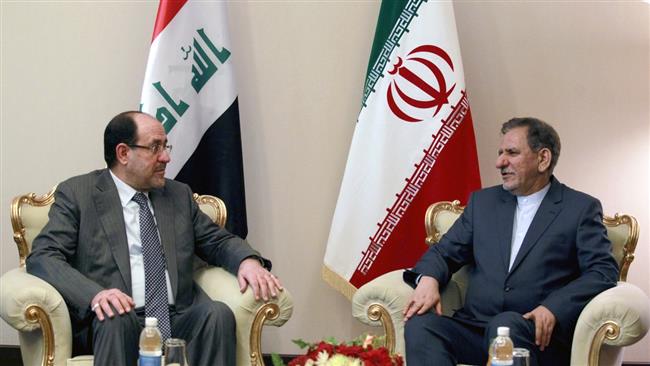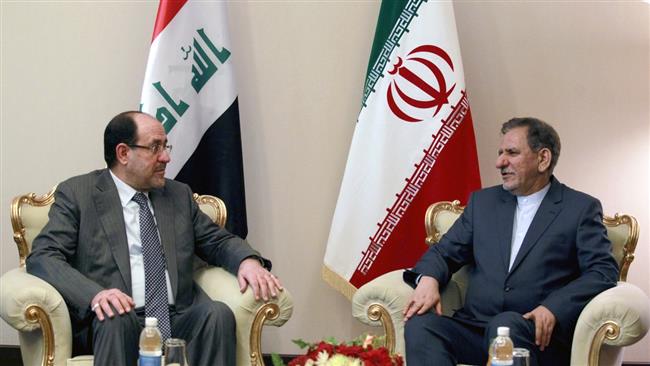 Iraq's First Vice President Nouri al-Maliki says the Islamic Republic of Iran has played a "historic" and "effective" role in helping the Iraqi military forces drive back members of ISIL Takfiri terrorist group. 
Speaking at a press briefing following a meeting with his Iranian counterpart, Es'haq Jahangiri, in Baghdad on Tuesday, Maliki praised Tehran's "timely" and "unconditional" assistance to the Iraqi government and nation in the fight against ISIL.
Baghdad and the northern Kurdish city of Erbil would have fallen into the hands of Takfiris if Iran had not rushed to help Iraq, Maliki said, calling for closer cooperation between the two neighboring states in the anti-ISIL campaign.
Maliki also pointed to the plots being devised in the Middle East, saying certain parties are seeking to fan the flames of tribal conflicts, and those drawing up such schemes do not favor the resolution of crises in the Middle East and the restoration of calm to the troubled region.
On January 6, Secretary General of Iraq's Badr Organization Hadi al-Ameri said Iran saved the Iraqi government from the threat of collapse by the ISIL Takfiri group.
"If it were not for the cooperation of the Islamic Republic of Iran and [Major] General [Qasem] Soleimani [a commander of Islamic Revolution Guards Corps (IRGC)], we would not today have a government headed by [Iraqi Prime Minister] Haider al-Abadi in Baghdad," the top commander of Iraq's volunteer forces noted.
Iran has repeatedly stressed that it will not interfere militarily in Iraq and Syria, but the Islamic Republic continues to provide support to both countries against ISIL in the form of defense consultation and humanitarian aid.
The ISIL started its campaign of terror in Iraq in early June 2014. The heavily-armed militants took control of Mosul before sweeping through parts of the country's Sunni Arab heartland.
The terrorists have been carrying out horrific acts of violence, including public decapitations, against all Iraqi communities such as Shias, Sunnis, Kurds and Christians.
Iraqi soldiers, police units, Kurdish forces, Shia volunteers and Sunni tribesmen have succeeded in driving the ISIL terrorists out of some areas in Iraq.