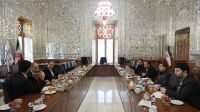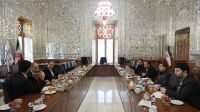 A senior Iranian lawmaker has highlighted the significance of Iran and Egypt in promoting stability in the Middle East and uniting the Muslim world.
According to Press TV, Head of Iran Majlis Research Center Kazem Jalali at his Monday meeting with Head of Egypt's interests section in Tehran Khalid al-Said Ibrahim Amari said "Egypt and Iran can play an important and effective role in the Middle East region for promoting peace and security, and providing proper grounds for unity of the Muslim world."
He pointed to historical, cultural and religious commonalities between Iran and Egypt and called for the expansion of mutual ties in all spheres, particularly in parliamentary affairs.
The Iranian legislator also indicated the readiness of Iran Majlis to transfer its experiences to the Egyptian legislative bodies, especially the newly elected parliament.
Jalali hailed Egypt's 2011 revolution as a "great achievement for the regional nations," adding, "Every revolution is usually followed by a transition period which has to be passed and the Egyptian revolution is no exception to this rule. We hope to see stability and calm in this country very soon."
Amari, for his part, pointed to the historical and cultural ties between Iran and Egypt and called for further cooperation between officials of the two countries in an attempt to boost bilateral relations.
He thanked Iranian nation and government for supporting Egyptian revolution and described Iran and Egypt as "two wings of the Islamic civilization" in the east and west of the Middle East.