Iran
Iran emerged victorious in US economic war by cutting reliance on oil: Rouhani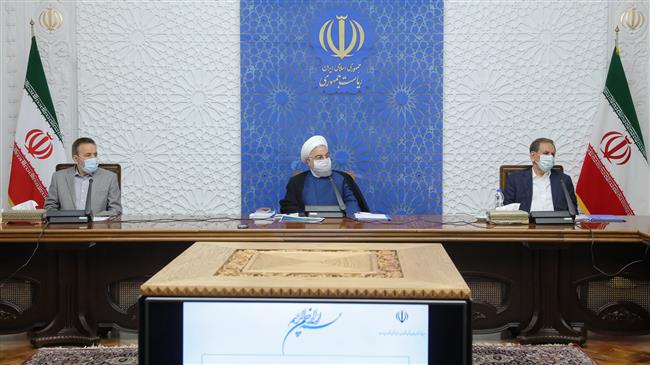 Iran's President Hassan Rouhani says the country has managed to overcome the US sanctions and emerged victorious in Washington's economic war by cutting reliance on oil revenues.
Rouhani made the remarks while addressing a meeting of the government's economic coordination headquarters on Tuesday on special plans and policies formulated by his administration to overcome the ongoing economic problems caused by the American bans.
"The Americans were expecting that the country's economy would grind to a halt shortly after the sanctions came into force, but today we have succeeded in running the country with planning and reliance on a non-oil economy," the president said.
"This is a display of power and a major victory for the Iranian nation in the [US] economic war," he added.
He emphasized that the country's management under such difficult conditions showed that the Iranian nation is capable enough to prevent the US from achieving its goals.
Iran has been under the "toughest ever" US sanctions since May 2018, when Washington abandoned the international nuclear deal, officially known as the Joint Comprehensive Plan of Action (JCPOA), signed between the Islamic Republic and major world powers in 2015.
After quitting the deal, the US under President Donald Trump unleashed a "maximum pressure" campaign mainly aimed at paralyzing Iran's banking sector and driving to "zero" its oil exports — the country's main source of income.
Faced with the obstacles that the US has been creating in the way of its oil sales, Tehran has stepped up work to wean the country off oil revenues and diversify its economy.
Elsewhere in his remarks, Rouhani described Iran's handling of a fatal coronavirus outbreak as yet another victory for the government, saying the pandemic is posing serious challenges not only to the Iranian economy but also to that of the entire world community.
"In such a situation that even some developed countries have also faced difficulty in providing and distributing the daily needs of people, the [Iranian] government has overcome this situation through special strategies and preparedness of structures and organizations and with the cooperation of people and will continue to do so," the chief executive pointed out.
Latest on coronavirus infections in Iran
Meanwhile, the spokeswoman for Iran's Ministry of Health, Sima Sadat Lari, announced on Tuesday that 262,173 individuals have been so far been infected with the new coronavirus across the country.
She added that 179 virus deaths have been registered over the past 24 hours, raising the total toll to 13,211.
The official also reported 2,521 COVID-19 cases during the same period, 1,820 of whom have been hospitalized.
Lari said as many as 225,270 individuals have recovered from the coronavirus, adding that 2,023,079 people have been tested for the virus in the country so far.