Iran
Iran favors friendly ties with other states: Rouhani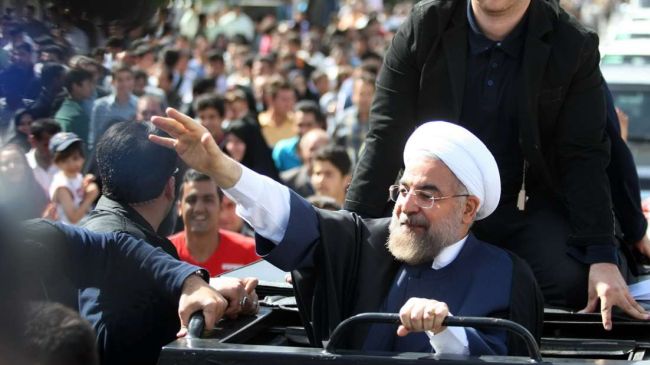 Iranian President Hassan Rouhani says Tehran is extending a hand of friendship to any country willing to have cordial ties with Iran.
Addressing a crowd during a tour of the Ilam Province in western Iran, Rouhani said Iran's friendship is directed at both the East and the West and all those who embrace the rights of the Iranian nation and its advancement.
"Our approach to the world is ne of interaction and friendship within the framework of dignity, wisdom and expediencies," the president added.
He said Iran seeks to expand relations with all its neighbors, stressing that Iran's relations with the world, especially neighboring countries, are better than ever.
Iran's foreign relations have improved following an interim deal between Tehran and six world powers over the Islamic Republic's nuclear energy program in the Swiss city of Geneva on November 24, 2013.
Since the conclusion of the agreement, foreign ministers of Italy, Austria, Sweden and Poland have visited Iran and discussed further cooperation.
In mid-February, a French delegation of more than 100 businessmen from various sectors of its industry, including banking, telecommunications and shipping sectors, visited Tehran.
It was the biggest economic delegation that France has sent to the Islamic Republic since the 1979 victory of the Islamic Revolution in Iran.
World oil giants, including Royal Dutch Shell, British Petroleum (BP), Malaysia's Petronas, Spain's Repsol, Russia's second-largest oil producer, Lukoil, France's Total and Italy's Eni, have also shown interest in returning to the Iranian market following relief in the anti-Iran sanctions that has come after the nuclear accord.