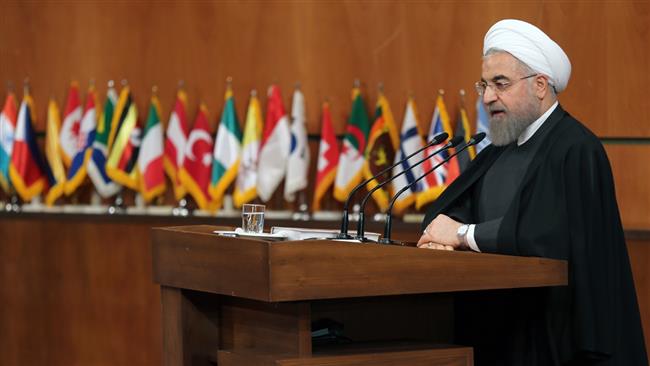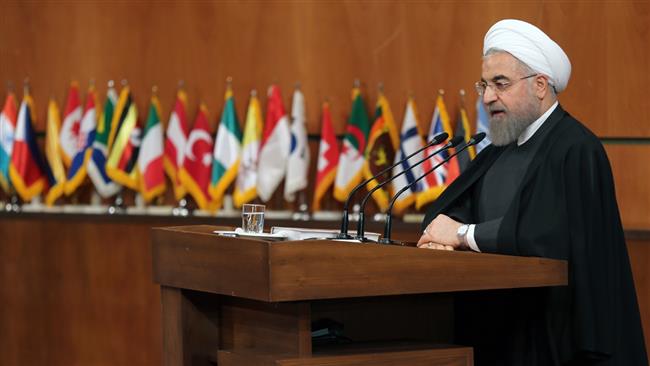 Iranian President Hassan Rouhani has described the Islamic Republic as the "flag-bearer" of the fight against terrorism, saying Iran's efforts have helped prevent the expansion of Daesh terror activities.
On Saturday, Rouhani said Iran pioneered the slogan of a world free from violence, stressing that the Islamic Republic has been the "flag-bearer" of anti-terror battles both in word and practice.
He was referring to a 2013 UN resolution adopted based on his proposal for a World Against Violence and Extremism (WAVE).
Rouhani further said if it had not been for Iran, Daesh would have managed to speed up its advances and achieve its declared goals of establishing full control over Iraq and Syria.
He added that the Iranian nation must be appreciated for its struggles against terrorism.
Parallel climate talks in Tehran, New York
The Iranian president made the comments in an address to the 2nd International Seminar on Environment, Religion and Culture underway in the capital Tehran.
Tehran is hosting the event in cooperation with the United Nations Environment Program (UNEP) and the UN Educational, Scientific and Cultural Organization (UNESCO). Representatives from 15 countries are attending the forum.
Rouhani further pointed to the coincidence of the Tehran event with the signing ceremony in New York of an international climate deal reached in Paris, France, last December, stressing the need for international unity and collective efforts to help protect the environment.
"Today, we are duty-bound to shoulder our responsibility [to protect] the climate at regional and international levels," said the Iranian president.
The Tehran conference opened on Friday, the same day that a total of 175 countries, including Iran, signed the Paris climate deal at the United Nations headquarters in New York. The international agreement is aimed at fighting global warming.
Iran 'land of peaceful co-existence'
Elsewhere in his comments, Rouhani said the Iranian nation has not waged any war against other states over the past two centuries, but it has firmly stood against the aggressors and courageously defended the country.
He described the Islamic Republic as the "land of peaceful co-existence" among different cultures and religions.
Touching on last year's landmark nuclear deal on Tehran's nuclear program, Rouhani said Iranians managed to resolve one of the world's "most complicated" legal and political issues through dialogue and logic.