Iran
Iran FM decries possible attack on Syria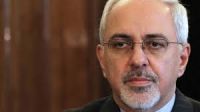 Iranian Foreign Minister Mohammad Javad Zarif has censured a possible attack on Syria, saying that the United States cannot control the repercussions of such a strike.
According to Press TV, Zarif made the remarks in a telephone conversation with his Venezuelan counterpart Elias José Jaua Milano late on Sunday.
The Iranian foreign minister said "Using force has very dangerous consequences… which are not within the control of the initiator," adding that it is not yet clear who was behind the chemical attack.
Zarif also denounced any use of chemical weapons "in any form and by anyone," saying, a military attack could harm the international security as it is against "the most basic principles of the international law."
Zarif said military operation in Syria is against principles of international law and should be condemned in any form.
The Venezuelan foreign minister, for his part, referred to close and friendly relations between Tehran and Caracas and voiced his country's willingness to broaden cooperation with the Islamic Republic.
He said Venezuela is strongly opposed to any military intervention in Syria and believes that the issue should be resolved through political means and dialogue.