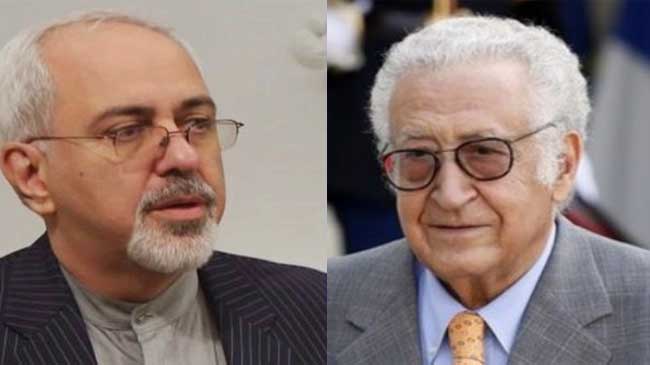 Iran's foreign minister has called for focusing on Syrian-Syrian talks to resolve the crisis in the Arab country.
Mohammad Javad Zarif made the comments in a telephone conversation with UN-Arab League Special Representative for Syria Lakhdar Brahimi on Friday.
The two sides exchanged views on the latest developments pertaining to the upcoming Syria peace conference, stressing the importance of finding a political solution to the ongoing crisis in Syria.
Earlier on Friday, Brahimi told media that Iran's participation at the Syria peace conference had not been decided upon yet due to the US opposition.
"The US is still not convinced Iran's participation would be the right thing to do," said Brahimi at a news conference after a day of meetings with the five permanent members of the UN Security Council and Syria's neighbors Turkey, Jordan, Lebanon and Iraq.
"Iran is not off the list for the moment," However, he added.
According to Brahimi, about 30 countries, including Saudi Arabia, Algeria, Brazil, Egypt, Kuwait, Oman, Qatar and the United Arab Emirates, would be invited to the day-long conference on January 22 in the Swiss city of Montreux.
The Syrian opposition has also opposed Iran's participation in the long-awaited peace conference.
However, Russian Deputy Foreign Minister Gennady Gatilov on Friday stressed that Iran should be invited to the upcoming international peace talks, emphasizing that the Syrian crisis could not be settled without Iran engagement.
On December 16, the Iranian foreign minister said the Islamic Republic would take part in the Syria peace conference if it is invited to the event without any preconditions.
On October 2, UN Secretary-General Ban Ki-moon also underscored Tehran's decisive role in the settlement of the crisis in Syria, stressing the need for Iran's presence in any international talks on the Arab country.
Syria has been gripped by a deadly crisis since 2011. Reports indicate that the Western powers and their regional allies — especially Qatar, Saudi Arabia, and Turkey — are supporting the militants operating inside the country.
According to the United Nations, more than 100,000 people have been killed and millions displaced in the violence.