Iran
Iran FM, US foreign secretary hold fresh nuclear talks in Austrian capital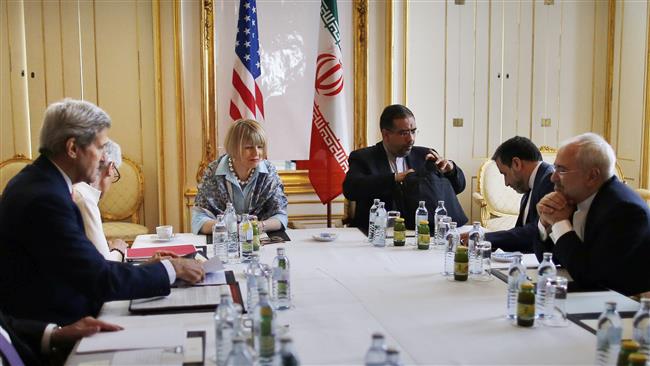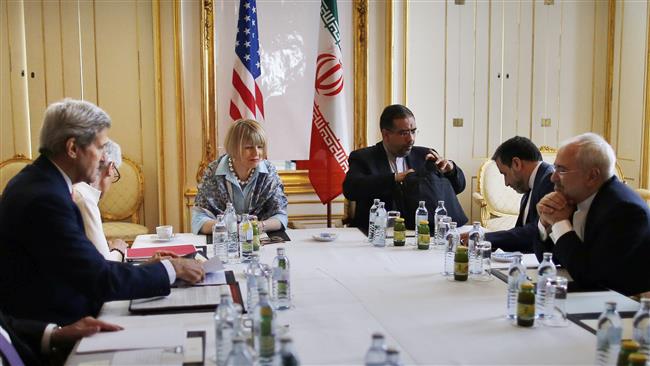 Iranian Foreign Minister Mohammad Javad Zarif has held another meeting with his US counterpart John Kerry in the Austrian capital, Vienna, as part of the negotiations between Iran and the P5+1.
Zarif and Kerry sat down for fresh nuclear discussions in Vienna on Sunday. They had also met earlier on Saturday.
Deputy foreign ministers as well as experts from both sides were also present in the Sunday session.
Ahead of his Saturday talks with Kerry, Zarif told reporters that hard work is needed to nail down a final nuclear deal, saying, "We're determined to do everything we can in order to be able to get to this important milestone."
Kerry, for his part, said he was hopeful but stressed that there was a lot of hard work to do to clinch a final agreement.
Meanwhile, EU foreign policy chief Federica Mogherini has also arrived in Vienna for the talks. German Foreign Minister Frank-Walter Steinmeier and British Foreign Secretary Philip Hammond are also expected to join the negotiations.
French Foreign Minister Laurent Fabius, who arrived in Vienna on Saturday, said he would leave for Paris on Sunday but would return to the Austrian capital on Tuesday.
Meanwhile, Chinese Deputy Foreign Minister Li Baodong has arrived in Vienna, while Russia has announced that its Foreign Minister Sergei Lavrov will join the nuclear negotiations later on Tuesday.
Iran and the five permanent members of the UN Security Council – Russia, China, France, Britain and the US — plus Germany are holding talks to finalize the text of a possible deal over Iran's nuclear program by the end of June.
The two sides reached mutual understanding on the key parameters of the potential deal in the Swiss city of Lausanne on April 2.