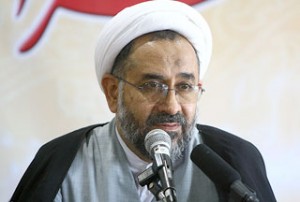 Iran's Intelligence Minister Heydar Moslehi says the country has foiled a plot by the terrorist Mojahedin Khalq Organization (MKO) to carry out bomb attacks in Tehran.
Moslehi added that two MKO teams were arrested before they could carry out any operation.
"The terrorist groups planned to carry out bomb attacks in some squares in Tehran," he stated.
Iran's intelligence minister said that the arrested terrorists had received necessary training in the MKO camp in Iraq.
"They planned to terrorize innocent citizens in some important and sensitive districts of Tehran," Moslehi added.
He said that the terrorists planned to set police cars and motorcycles on fire in the next stages of their plot.
Moslehi also accused Britain, France and Sweden of backing the terrorist group.
The MKO is responsible for killing large numbers of Iranian officials and citizens during countless brutal attacks inside the country.
It is designated as a terrorist organization by many countries, including the US.