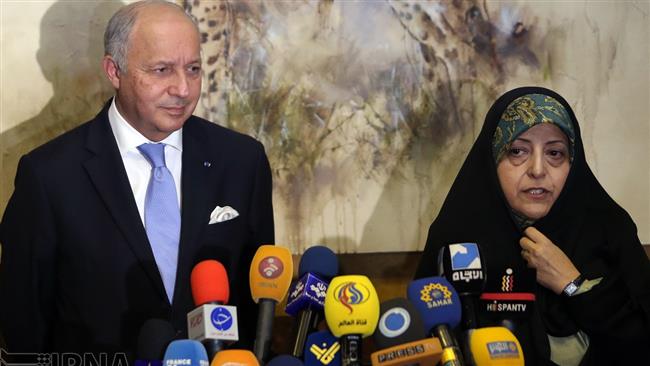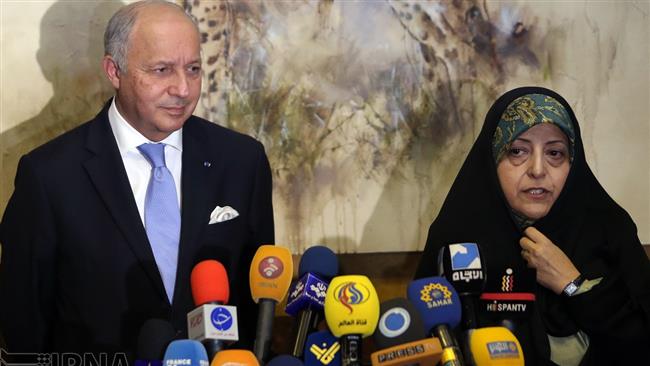 Head of Iran's Department of Environment says in her meeting with the French foreign minister, the two sides have discussed bilateral cooperation in the field of green technology.
Masoumeh Ebtekar made the remarks when answering questions in a joint press conference with France's top diplomat, Laurent Fabius, in Tehran on Wednesday.
Ebtekar said during her negotiations with the French foreign minister, the two sides have discussed cooperation between Tehran and Paris in the area of green technology, especially water-related technology.
"Our bilateral meeting today was also focused on the two countries' cooperation on environmental issues and negotiations related to climate change," she added.
The Iranian official noted that climate change has inflicted great losses on Iran, especially through dwindling water resources, increased temperature, and the haze problem.
She noted that this year's conference on the United Nations Framework Convention on Climate Change will be held in Paris in December with the French foreign minister as its chairman.
"The participants will try to reach a new agreement on climate change and also continue negotiations with countries that produce the largest quantities of greenhouse gases in order to reduce gas emission," she added.
Before his meeting with Ebtekar, Fabius met with Iran's Oil Minister Bijan Zanganeh at the Iranian Oil Ministry in Tehran.
During the meeting, the two sides highlighted the necessity of boosting oil and gas cooperation between Iran and France with Fabius indicating his country's willingness to take part in Iran's petrochemical projects.
The French foreign minister arrived in Tehran for a day-long visit on Wednesday morning. During his stay in Tehran he has met with Iran's President Hassan Rouhani, his Iranian counterpart, Mohammad Javad Zarif as well as Zanganeh and Ebtekar.
Upon arrival in Tehran, Fabius said an economic delegation of big French companies will visit Iran in September.
Fabius' visit to Iran is the first by a French foreign minister to the Islamic Republic in 12 years.