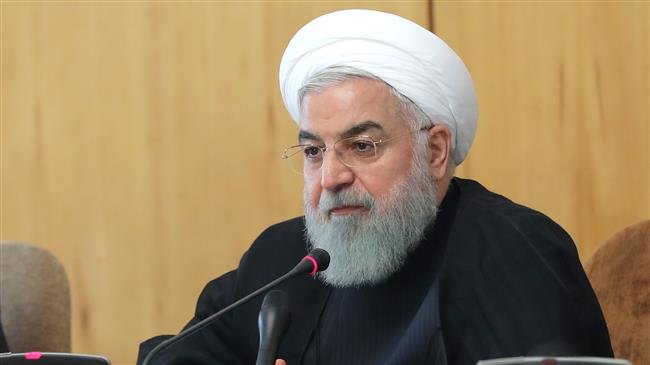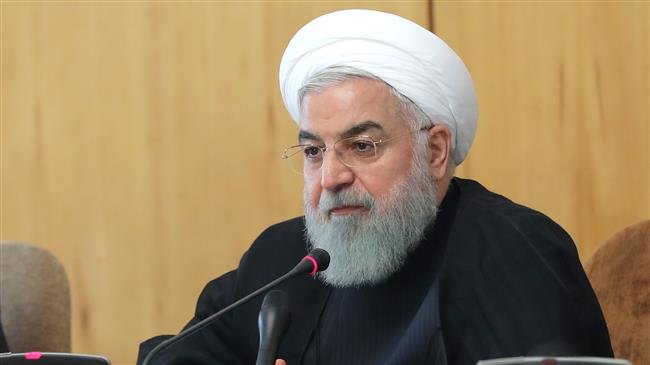 President Hassan Rouhani has assured the Iranian nation of the government's resolve to stand up to US threats, emphasizing that his team will do all in its power to resolve the economic problems caused by American pressure.
"November 4 this year translates into a new instance of oppression by America," he said, referring to the date, when Washington is set to reimpose sanctions on Iran's energy sector.
"Our people need to rest assure that the government is not afraid of US threats," he added, during his address to the weekly cabinet session on Wednesday.
The president said that representatives of various countries, including Asian and European ones, had sent messages of assurance to the Islamic Republic "that they will stand by and continue their cooperation with Iran."
'US in retreat'
"We are certain that the Americans will fail in their new plot, and that they are actually in gradual retreat," the president asserted.
President Rouhani recalled that US officials first said claimed that they would reduce Iran's oil exports to zero, but then retracted their statement, saying that the process could take two to three months.
"We tell them that 'you will not reach any of your goals with regard to Iran's oil sales. You will neither be able to bring it to zero nor reduce it,'" Rouhani stated.
As the administration of US President Donald Trump is preparing to impose sanctions against Iran's oil exports within the next few days, indications are already appearing that certain countries are preparing to defy Washington's pressures to halt purchases of Iranian oil.
By escalating psychological and economic pressure, the US has been seeking to anger the Iranian people, President Rouhani said, adding however that Iranian were and would be angry at Washington's atrocities, rather than their own Islamic establishment, government, and country.
"Because they (the nation) love their country Iran," the president said.
'Setbacks to be overcome'
Rouhani said that Iran could easily overcome the setbacks, because it enjoys lasting relations with its trade partners, whereas the US pressure is only temporary.
"The US will raise hue and cry for a few days, but will have to eventually leave [the region], because they cannot make decisions for the people of the region," Rouhani noted.
The United States exited a multilateral nuclear agreement with Iran in May, and threatened to reinstate all sanctions that had been lifted under the accord.
Washington re-introduced the first round of sanctions in August. The next round is bound to take effect as of November 4th.
Other parties to the deal — the UK, France, Russia, China, and Germany — have collectively censured the US withdrawal, stressing that the agreement has been ratified in the form of a United Nations Security Council, and thus the US departure violates international law.