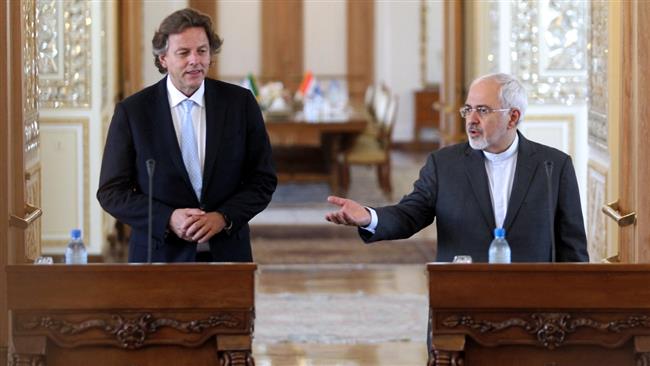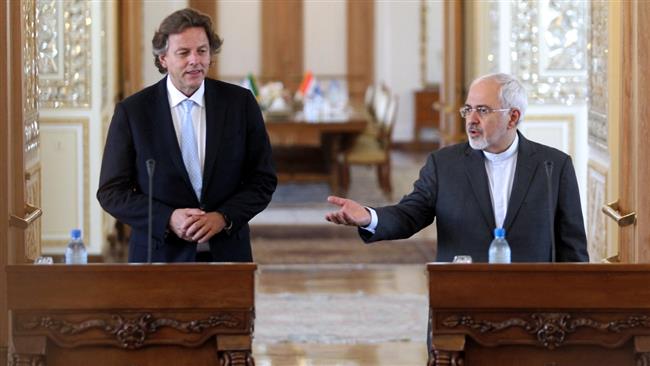 Iran's Foreign Minister Mohammad Javad Zarif says lack of trust on the part of the Iranian nation and government in the US statesmen is the main problem in relations between Tehran and Washington.
"What the American officials have done in recent months, particularly after [the finalization of] JCPOA [the Joint Comprehensive Plan of Action], to satisfy critics inside the US has unfortunately failed to help restore the trust," Zarif said in a joint press conference with the visiting Dutch Foreign Minister Bert Koenders in the Iranian capital, Tehran, on Sunday.
The Iranian minister expressed hope that the US would seriously live up to its obligations in the implementation of the nuclear agreement with Iran to help resolve the mistrust.
On July 14, Iran and the five permanent members of the UN Security Council – the United States, France, Britain, Russia, China – plus Germany finalized the text of JCPOA in the Austrian capital city of Vienna.
Under the JCPOA, limits will be put on Iran's nuclear activities in exchange for, among other things, the removal of all economic and financial bans against the Islamic Republic.
Iran-Netherlands ties
Elsewhere in his remarks, Zarif said Iran and the Netherlands are determined to improve relations in all fields.
He added that relations between the two countries date back to several centuries ago but due to the conditions over the past few years, the level of ties was downgraded to some extent.
"There have been extensive political and economic relations between Iran and the Netherlands," the Iranian minister noted, adding, "Today, we have the opportunity to overcome the obstacles [that existed] in the past and achieve a favorable level in relations [between the two states]," he added.
The top Iranian diplomat noted that in addition to oil, gas and energy sectors, Tehran and Amsterdam can cooperate in the fields of water management, agriculture and other areas in which the Netherlands has managed to make considerable progress.
He also expressed Iran's readiness to interact with its partners in the European Union in various political, economic and cultural fields.
"The expansion of economic relations will provide an appropriate ground for Iran's cooperation with the Netherlands and other countries in the European Union," the Iranian minister said.
The Dutch foreign minister, for his part, stated that the "historic" nuclear agreement of July 14 was a victory for multilateral diplomacy and the policy of engagement.
Koenders said Iran and the Netherlands have deep-rooted relations, stating that the Dutch government is eager to work with Iran in oil and gas sectors.
The Dutch foreign minister arrived in Tehran on Sunday on the invitation of his Iranian counterpart. He is set to hold talks with President Hassan Rouhani and other senior Iranian officials.