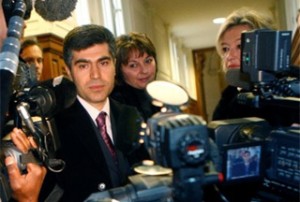 Foreign Ministry Spokesman Ramin Mehmanparast says the release of Iranian national Majid Kakavand after more than a year in prison signals a positive turn in Iran-France relations.
"Fortunately, the efforts made by the Iranian Foreign Ministry and Embassy in Paris over 14 months ended Mr. Kakavand's illegal detention on May 7, 2010 and returned to the country."
"Despite the passing of one year since the incarceration of this Iranian national and his indisputable innocence we extend our gratitude to the French Legal system for ordering his release and we consider this as a positive turn in Iran-France relations."
Kakavand was arrested in 2009 in France due to being accused of violating an export embargo by purchasing US technology for military firms in Iran. Washington demanded that Paris extradite Kakavand to the US.
The court hearing Kakavand's case dropped the charges brought against him by the United States on the basis that the Iranian national had not violated any French laws. Kakavand was subsequently released from prison.