Iran
Middle East
Qasem Suleimani
Iran Has Proven Its Power to Counter Any Threats, Defense Minister Says
Iranian Defense Minister Brigadier General Amir Hatami highlighted the country's recent moves to thwart US plots and said the Islamic Republic has proven its power to counter foreign and domestic threats at any level.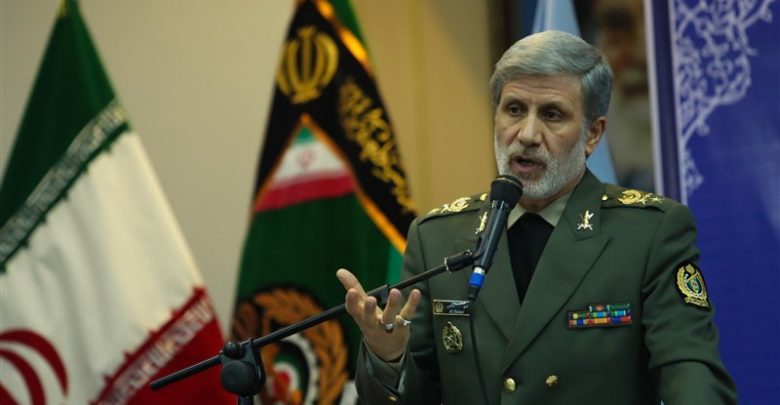 In a speech in Tehran on Tuesday, Brigadier General Hatami deplored the US hostilities and said all its cultural and economic plots against Iran, its attempts to create social crises, impose sanctions and spread terrorism in the region, and finally the assassination of Lt. Gen. Qassem Soleimani, are all aimed at undermining the Islamic Republic's military power.
He highlighted Iran's military might in the face of the US and said, "If they (the Americans) had the slightest feeling of military superiority over the Islamic Republic, they would not have resorted to any other means (like) subversion against the great nation of Iran."
"We consider strategy of becoming stronger as an obligation upon ourselves," Hatami went on to say.
"The Islamic Republic of Iran has proven that it will respond to any threat at any level based on its internal power," the defense minister went on to say.
General Soleimani, Abu Mahdi al-Muhandis, who was the deputy head of Iraq's Hashd al-Sha'abi (PMU), and a number of their entourage were killed in a strike by American drones near Baghdad International Airport on Friday, January 3.
The White House and the Pentagon claimed responsibility for the assassination of General Soleimani in Iraq, saying the attack was carried out at the direction of US President Donald Trump.
In the early hours of Wednesday, January 8, the Islamic Revolution Guards Corps (IRGC) targeted the US airbase of Ain al-Assad in retaliation for the US move.