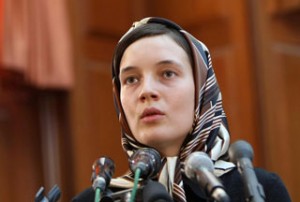 A French academic who was arrested in Iran on charges of espionage after the presidential election in June has stood trial in Tehran.
"The three-hour trial of Clotilde Reiss was held in Branch 15 of the Tehran Revolutionary Court on Wednesday morning," Fars News Agency quoted her lawyer Mohammad Ali Mahdavi Sabet as saying.
"The final part of pleadings concerning the accusations against the French national will be made in the next session of the trial," he added.
Reiss was arrested on July 1 on charges of taking part in a Western plot against the Islamic Republic.
She is also accused of carrying out "a series of offenses, such as illegal residence, participation in illegal protests and intelligence gathering for the French Embassy," according to Iran's Foreign Ministry.
Reiss, who was released on bail in August, currently resides in the French Embassy in Tehran awaiting her final verdict.
On Friday, Iranian President Mahmoud Ahmadinejad told AFP that the release of the French academic depends on France's approach and behavior.
"Iran is willing to release Clotilde Reiss, who was arrested for taking part in the post-election protests, but this depends on the approach and behavior of French officials," he said.