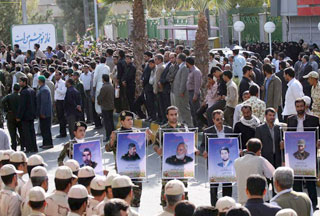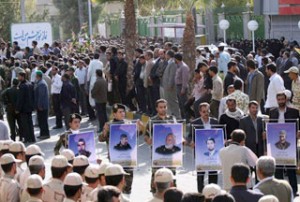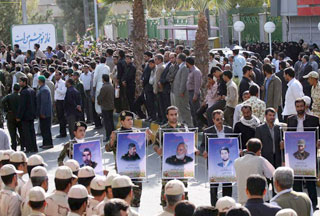 Iran has held a funeral ceremony for those killed in a terrorist attack in the south-eastern Sistan-Baluchestan province.
At least 42 people, including senior commanders from the Islamic Revolution Guards Corps (IRGC), Nour-Ali Shoushtari and Rajab-Ali Mohammadzadeh, were killed in a Sunday morning bombing during a gathering of Shia and Sunni tribal leaders in the borderline region of Pishin.
Iranians have taken to the streets of Zahedan city to bid the victims of the terrorist attack farewell.
The attack was carried out by the Pakistan-based Jundullah terrorist group, which is led by Abdolmalik Rigi.
The head of the IRGC said on Monday that an Iranian delegation would head for Pakistan to present "proof" of US, Britain and Pakistan's involvement in the attack.
"Our security bodies have found evidence that proves the Rigi group is supported by American and British intelligence services and unfortunately the Pakistani intelligence service," said General Mohammad-Ali Jafari.
"He [Rigi] undoubtedly acts under their orders," he said, adding that the Iranian delegation would ask for Rigi to be handed over.
Britain, Pakistan and the US have all condemned the terrorist attack and denied any involvement in the bombing in which dozens were also injured.