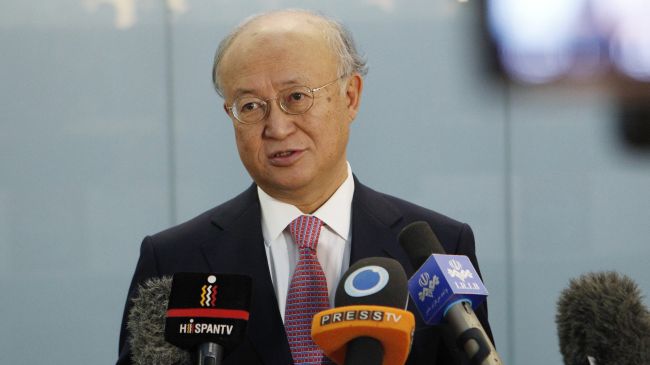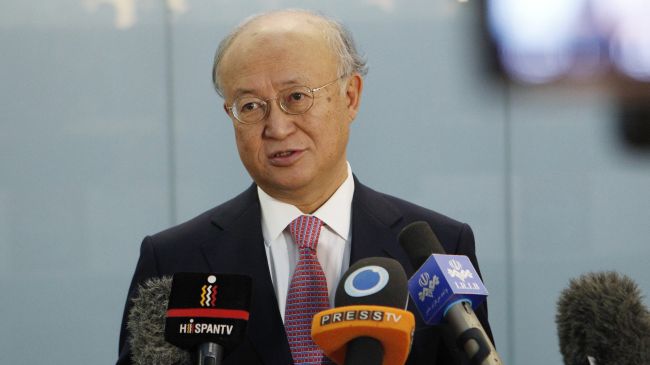 Director General of the International Atomic Energy Agency (IAEA) Yukiya Amano says Iran and the UN body have agreed to further cooperate to resolve all past and present nuclear issues.
Upon his arrival at Vienna airport on Tuesday from a visit to Iran, Amano described his talks with Iranian officials as "very constructive" and expressed hope that Iran and the UN nuclear agency can "smoothly" implement an agreement reached in Tehran.
Amano said the joint statement issued by Tehran and the UN nuclear agency is "a framework for cooperation and it has six practical measures" that will be implemented in three months.
Amano stated that the agreement is "an important step forward," but "much more needs to be done," adding, "The Iran nuclear issue is very complicated. We cannot expect that everything will come overnight, that is why we have taken a step-by-step approach."
Head of the Atomic Energy Organization of Iran (AEOI) Ali Akbar Salehi and the IAEA chief signed a joint statement in Tehran on Monday on a roadmap for more cooperation on the outstanding issues.
Under the deal, Iran will, on a voluntary basis, allow IAEA inspectors to visit the Arak heavy water plant and the Gachin mine in Bandar Abbas, in southern Iran. The IAEA Safeguards Agreement does not require Tehran to authorize IAEA inspection of these sites.
Amano also pointed to scheduled talks between Iran and the five permanent members of the UN Security Council — Britain, China, France, Russia and the United States — plus Germany and voiced the agency's readiness to implement the needed verification measures.
"If there is some agreement between the P5+1 and Iran and if we are requested to implement some verification measures, we are prepared to implement them," the IAEA chief pointed out.
Iran and the six major world powers held intensive talks over Iran's nuclear energy program in the Swiss city of Geneva from November 7 to 9. The two sides, agreed to continue negotiations on November 20 in the same venue.