Iran
Iran inaugurates advanced shoulder-fired missiles production line, solid fuel plants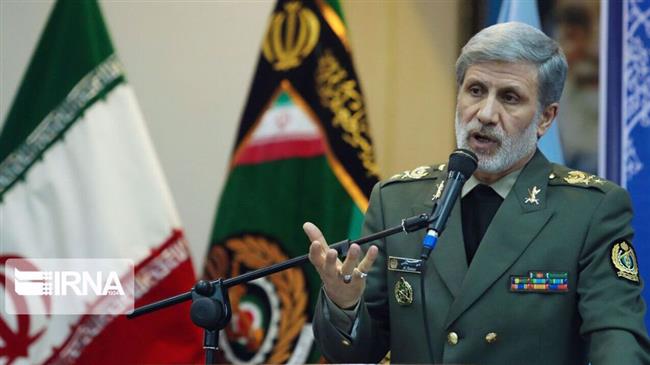 Iran has inaugurated the mass production line of advanced shoulder-fired missiles and opened composite solid fuel plants capable of supplying fuel to all ground combat missiles, taking another step in line with boosting the country's military and defense might.
The inauguration was held with the presence of Chiefs of Staff of the Iranian Armed Forces Major General Mohammad Baqeri and Iranian Defense Minister Brigadier General Amir Hatami on Saturday, coinciding with the festivities that commemorate the 42nd anniversary of the Islamic Revolution, which overthrew the US-backed Pahlavi regime.
Addressing the ceremony, Hatami said the shoulder-fired missiles were one of the most sophisticated and effective weapons against the enemy's forces and low-altitude targets, underlining that the missile was simple to use and operate by combat forces despite its high level of technology.
"Such missiles are equal to the most modern shoulder-fired missile in the world in terms of technology and tactical capability, and are even superior to foreign models in some components."
He said the systems used in the missiles are completely indigenized and the depth of its localization is such that it is possible to produce and supply various products from its production lines based on the type of threats and the needs of the Armed Forces.
Pointing to the opening of composite solid fuel production plants, Hatami said the plant was built to supply solid fuel to all surface-to-air missiles, adding that combined solid fuel can effectively increase low-altitude air defense owing to its higher energy, range and speed of surface-to-surface missiles and air defense.
Meanwhile, Baqeri hailed the new production line as one of the most unique production lines of short-range air defense missiles in the region, which can meet the operational needs of the Armed Forces by using advanced and new technologies in the fields of laser, optics, guidance and control.
He also described the weapon as valuable in the face of threats, and said it could be used in a variety of tactical combat situations.
"Only three or four countries in the world can produce such a weapon; but today, the Islamic Republic has fully acquired this technology and all its parts are fully produced and produced in high circulation and have been repeatedly hot-tested in various scenes that can be used in low to medium altitude air defense."
He also hailed the opening of composite solid fuel production plants as important in improving the ground combat power of the Armed Forces, and said increasing the range and speed of missiles used in ground combats was one of the needs of the Armed Forces, especially in the field of tactical surface-to-surface missiles, anti-tank armor and low-altitude air defense.