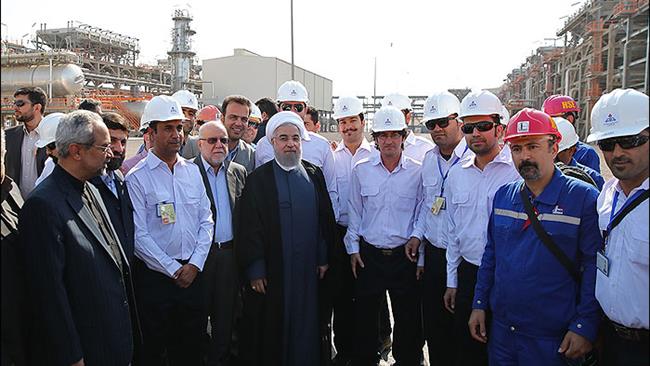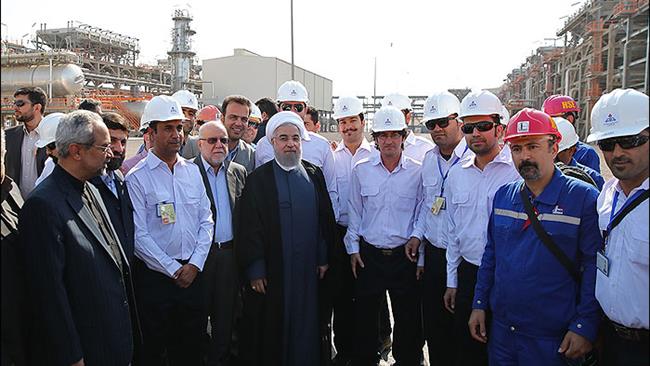 Iran has launched first phase production at three fields in its oil-rich Khouzestan province, bringing its total crude output closer to pre-sanction levels.  
Production from Yadavaran, North Yaran and North Azadegan were inaugurated in an official ceremony attended by President Hassan Rouhani.
Iran had awarded Yadavaran to China's Sinopec through a contract worth $3 billion.  North Azadegan had been awarded to the China National Petroleum Company (CNPC) and North Yaran to Iran's Persia Oil and Gas Development Company through contracts worth $2.5 billion and $0.6 billion, respectively.
North Azadegan is presently producing 85,000 barrels per day (bpd). Production from Yadavaran and North Yaran stand at 115,000 bpd and 30,000 bpd. Accordingly, Iran's production from oil fields on the western bank of the Karoun River that include the above fields has increased by above 250,000 bpd.
President Rouhani emphasized in a speech at the inauguration ceremony for the three fields that Iran needs a total investment of at least $18 billion to develop all West Karoun fields.  Rouhani emphasized that the country needs the latest technology to guarantee increased oil recovery at the fields in the region.
He praised the Ministry of Petroleum had effectively used the investment potentials created after the removal of sanctions in January. Rouhani emphasized that more work still needs to be done to further increase the country's production of crude oil.
The oil fields in West Karoun are Yadavaran, North Azadegan, South Azadegan, North Yaran, and South Yaran. The biggest among all are South Azadegan and Yadavaran which are shared with Iraq's Majnoon and Sinbad fields, respectively.
Officials have already emphasized that a long-term plan has been devised to increase production from the fields to above 1 million barrels per day